Senior men win League Final
https://youtu.be/3EC6Z6cWlu4 Watch the video here
Division 3 League Final
Drumgoon 0 – 09 Denn 1-04
Drumgoon emerged victorious in the Kingspan Breffni on Friday night, after a hard close fought tough encounter. Played in driving rain and windy conditions scores were hard to come by with both sets of defences well on top. Denn got off to a lighting start and were 1-01 up to no score after 5 minutes. However a resolute Drumgoon defence ably led by the Moynagh brothers Conor and Killian ensured that they only managed 3 scores for the remainder of the game. Killian & Mark performed heroics in defence and the midfielders worked tirelessly. Drumgoon moved the ball well from start to finish and brilliant running by the dynamic Darragh Lynch and the evergreen Keith Fannin ensured that they scored enough to deservedly take the title.
Drumgoon team was Corey Smith, Dylan Hand, Killian Moynagh, Mark Murray, Dominic Donegan, Conor Moynagh (1), Shane Smith, Conal Farrell (C), Darren Lavery, Dean Carroll (3), Darragh Lynch (1), Barry Cooney, Patrick Lynch, Keith Fannin (3), Paddy Smith (1), Subs Euan Crosson, Ben Brennan, Liam Smith, Aogan Farrell, Enda Shalvey, Niall Clerkin, Adrian Mc Cluskey, Daniel Ward, Adam Clarke, Ryan Conroy, John Mc Dermott, Michael Murray, Philip Morris, Niall Mc Intyre, Ben Mc Donald, Shane Shalvey, Joseph Mc Quillan,
Management Team, Gerard Mc Geough, Ken Coughlan, Benny Mc Intyre, Damien Clarke
Referee Chris Mc Caffrey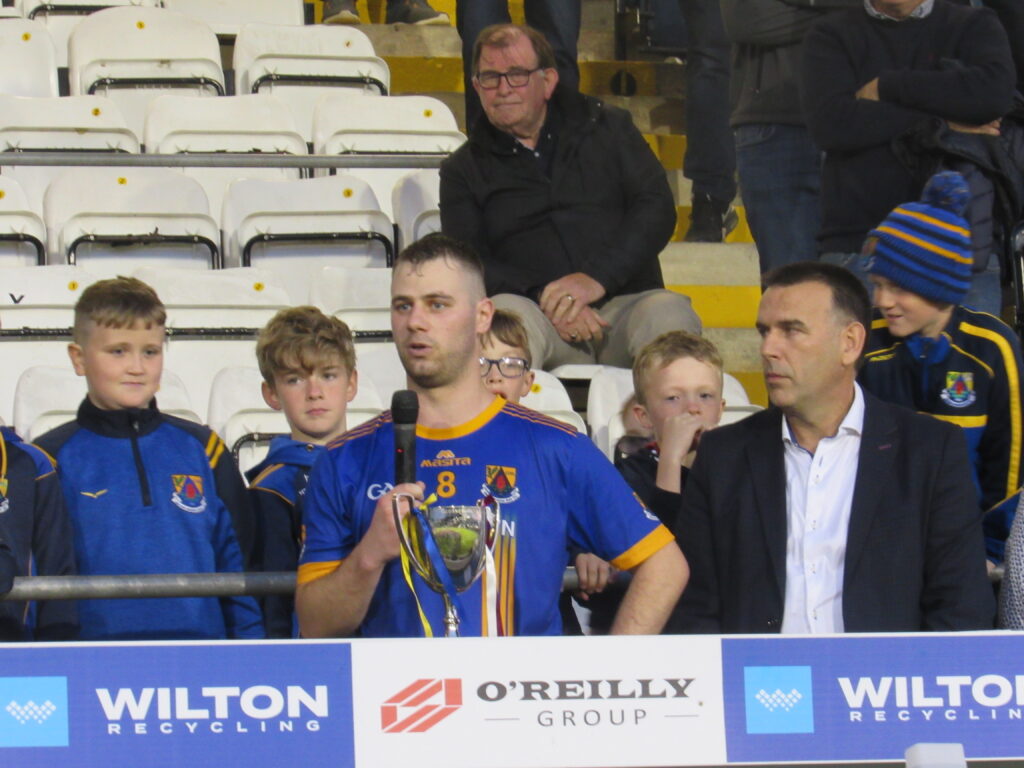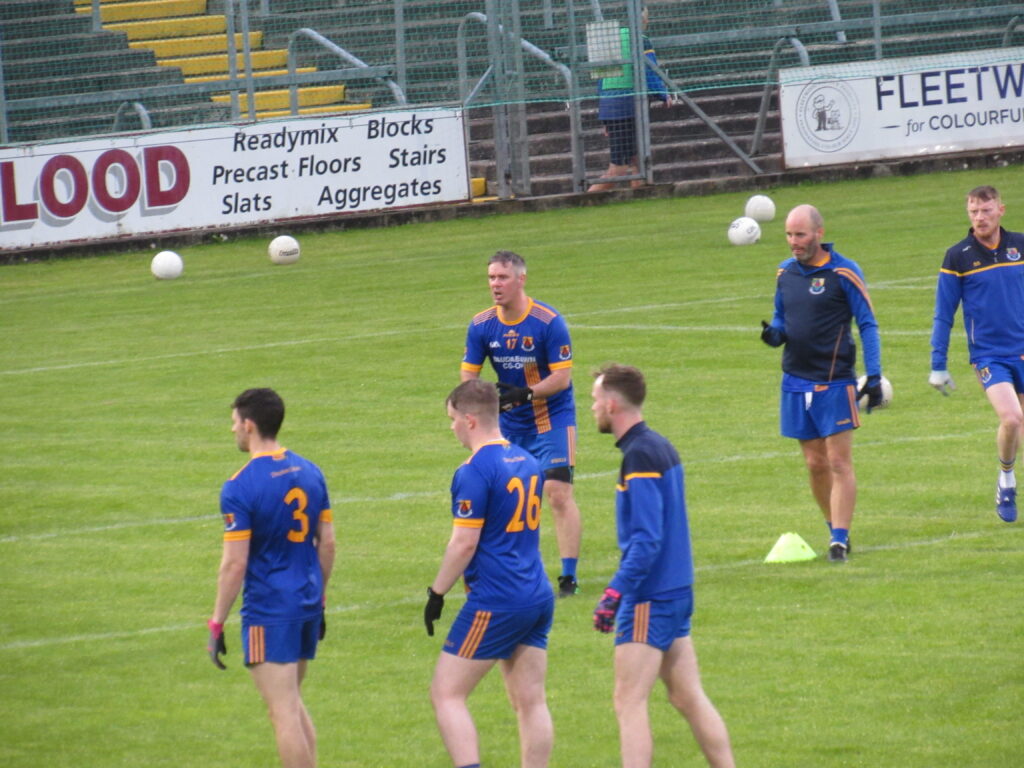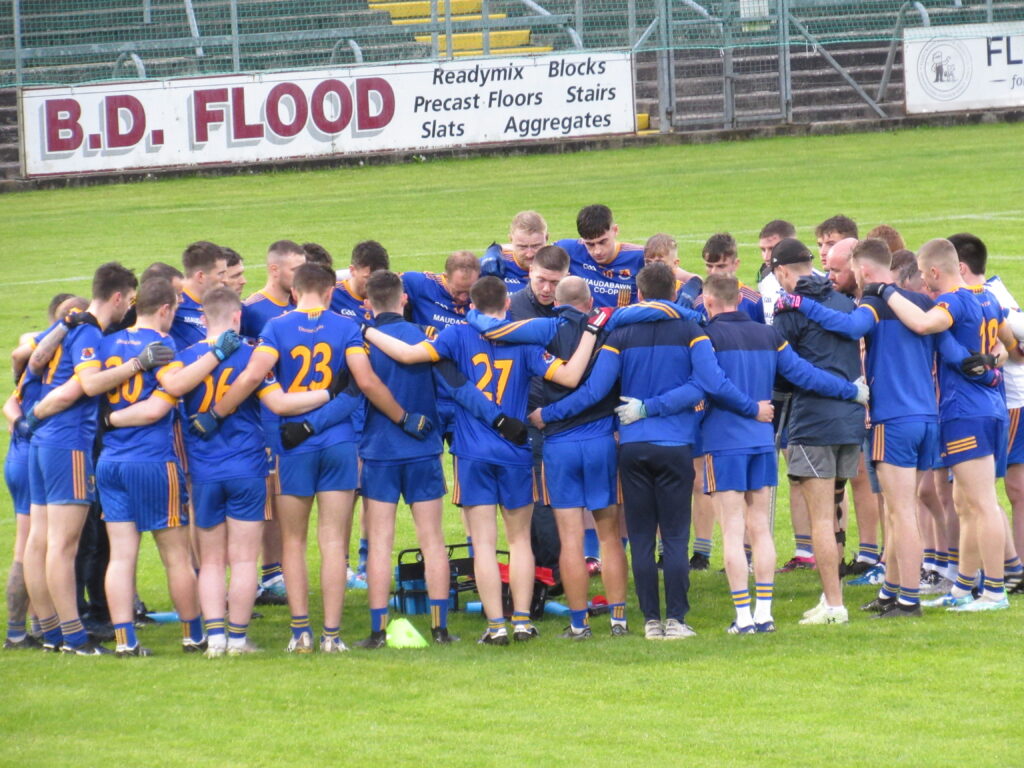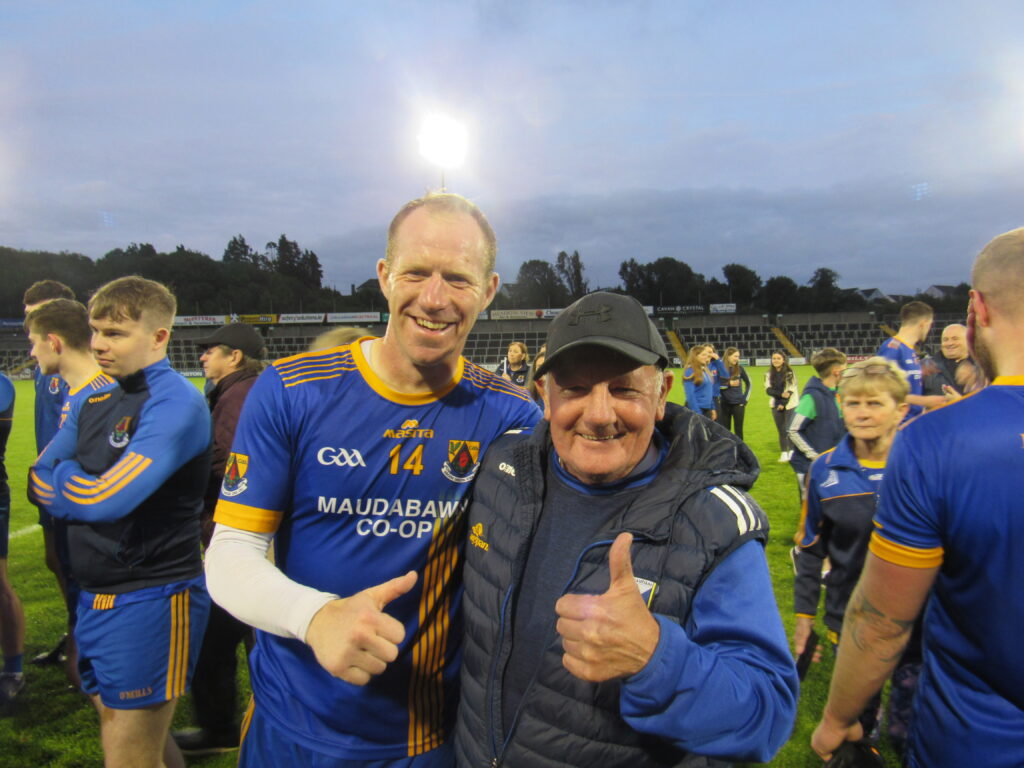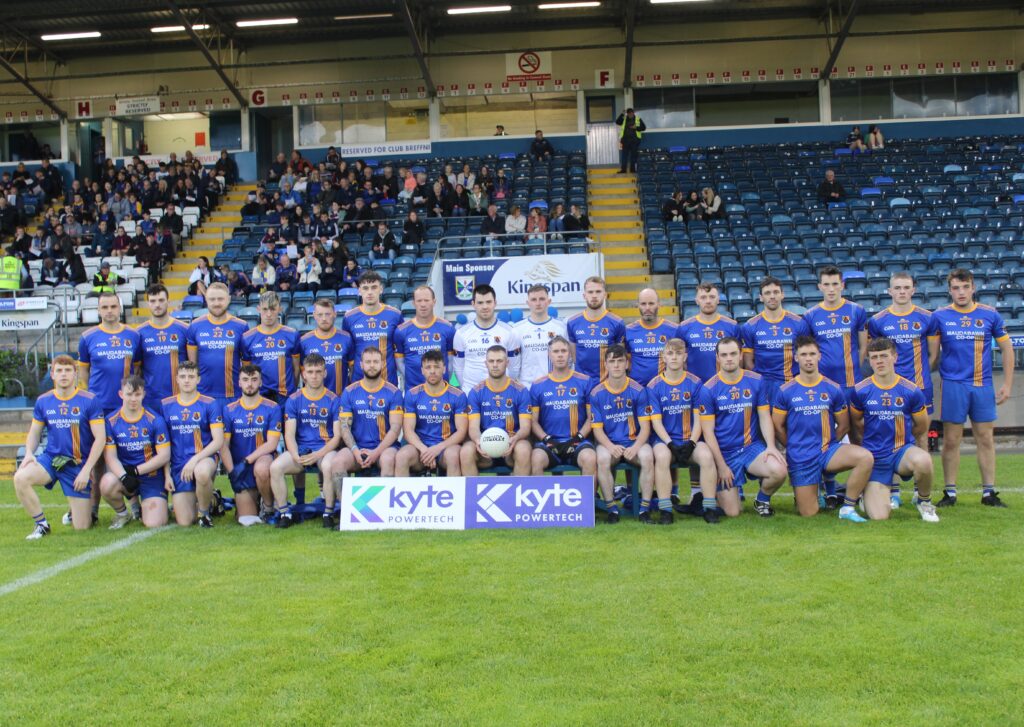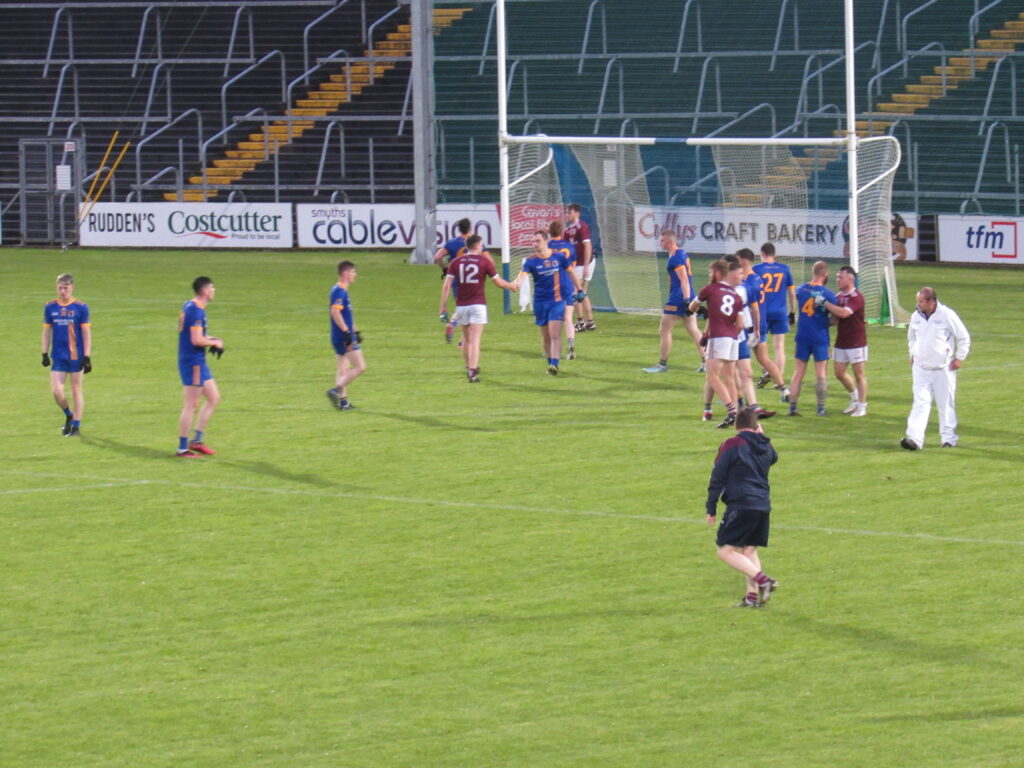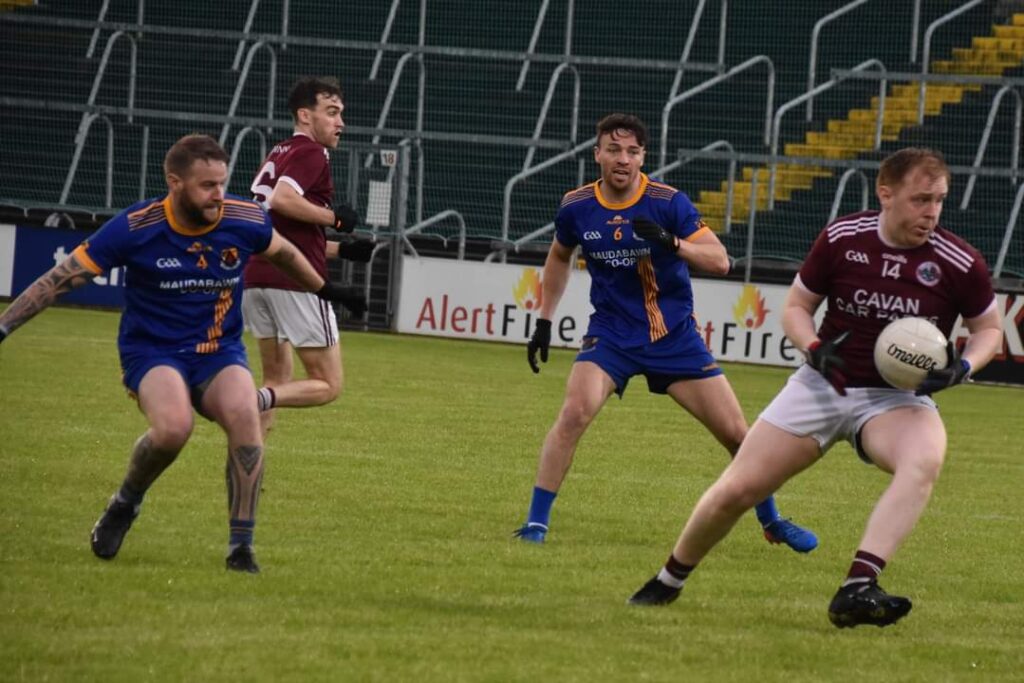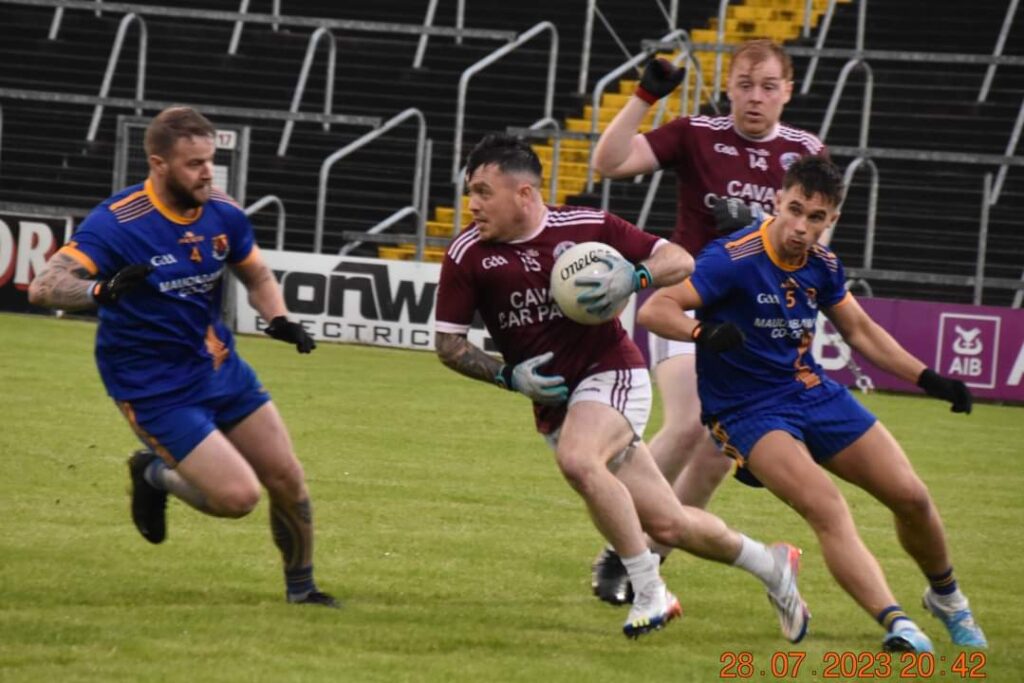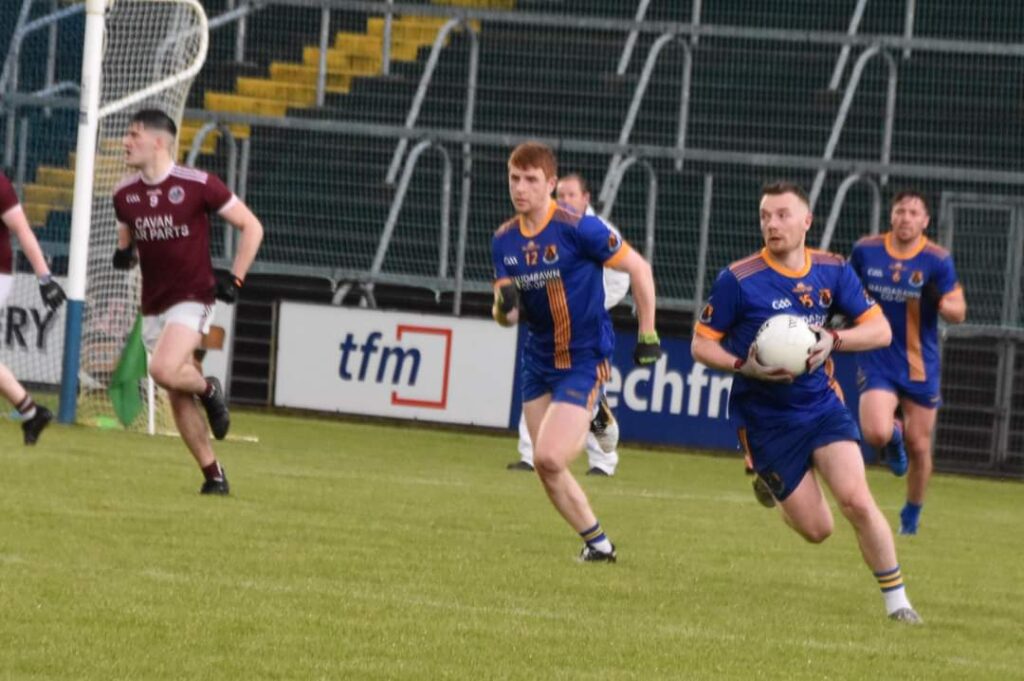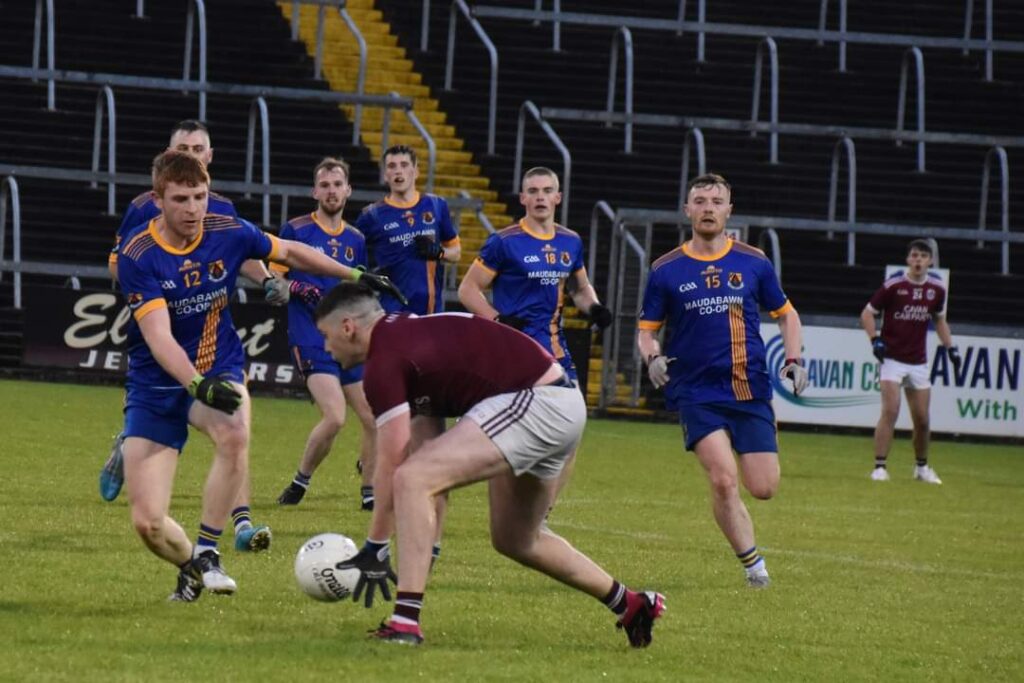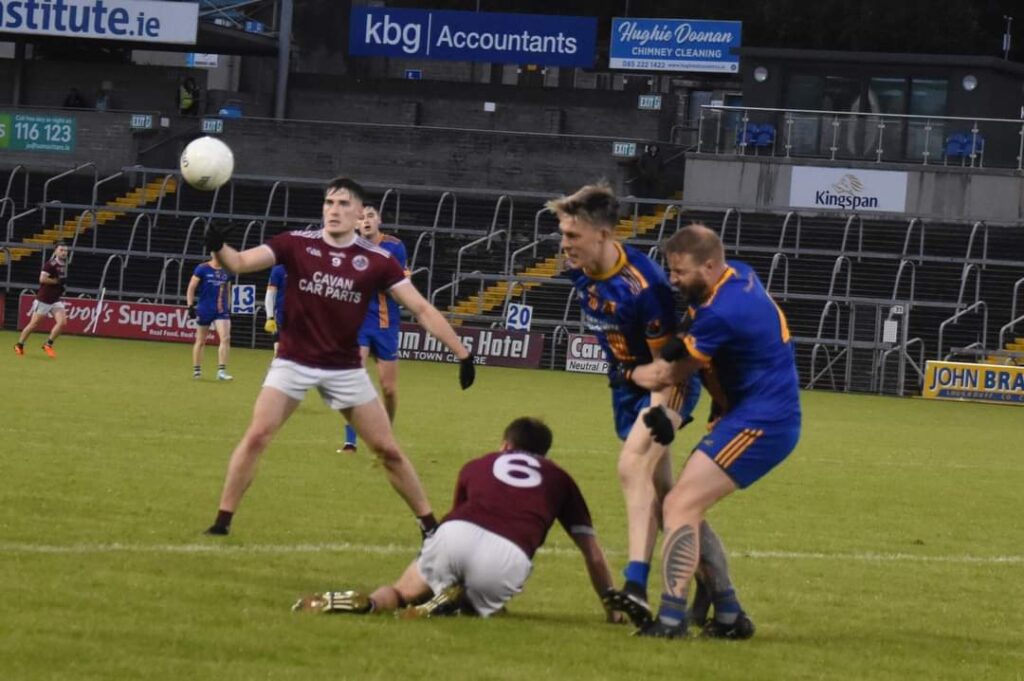 CELT REPORT
DRUMGOON received a timely boost ahead of their intermediate campaign in two weeks' time when they claimed the Division 3 league title at the expense of an out of sorts Denn side in a drab encounter played In a game littered with mistakes, Drumgoon bounced back from a poor start to make better use of possession and their scoring opportunities to deservedly shade a dour battle with Keith Fannin in particular producing an impressive performance, especially in the first half.
Although Denn had the lion's share of possession of the second half, the Drumgoon defence stood firm, frustrating their opponents by filter- ing numbers back behind the ball, but more importantly, they worked as a cohesive unit with Conor Moynagh leading the way.
the way. Once they had soaked up the Denn pressure, Drumgoon kicked on the final eight minutes as two superb points from Moynagh and Dean Carroll saw the 'Goonies' home.
After two energy-sapping games against Mountnugent, 14-man Denn looked flat at times and devoid of impetus to go and win the game, especially when they had numerous chances in the second half only to be let down by dreadful shooting in front of goal and poor decision-making.
Moreover, the Crosskeys outfit will be mulling over the fact they kicked only three points from the fourth minute of the Ben Conaty contest to the final whistle, despite making an impressive start in blasting in 1-1 in the opening minutes. To round off their misery, Cavell Keogan received his marching orders six minutes from referee, Chris McCaffrey, as the frustration evidently grew on the men in maroon.
After Keogan pointed a free in the second minute, the green flag was soon raised a minute later when live- wire Ben Conaty cut inside and bundled the ball home, despite heavy pressure from the Drumgoon full-back line.
From that point on, it looked like Denn would kick on from that excellent start, but instead, it was Drumgoon who seized the initiative as they probed the Denn defence at will while beginning to assert their dominance at midfield.
Paddy Smith opened Drumgoon's account in the sixth minute with a score from play which was followed up six minutes later with a Darragh Lynch point to leave the scores at 1-1 to 0-2 by the 12th minute.
Denn had opportunities themselves when on the attack, but they lacked a cutting edge and were let down by giving away possession cheaply or taking the wrong option especially when better options lay elsewhere.
This further increased Drumgoon's confidence as the would-be winners were more purposeful on the ball which was complemented by winning the majority of Mark Fegan's kick-outs as Denn were beginning to look perplexed.
Points from Dean Carroll (free) and Keith Fannin (mark) for Drumgoon, levelled the proceedings at 1-1 to 0-4, but Denn had a marvellous goal chance soon after when a high looping shot from Shane Galligan caused panic in the Drumgoon full back line and as the ball broke, Ben Conaty blazed over the crossbar with goal at his mercy. However, Drumgoon continued their momen- tum, and two super individual points from Fannin had his side deservedly in front at the interval at 0-6 to 1-2.
After a spell of rain, conditions were difficult in the beginning of the second half as both teams adjusted to their best to the slippery surface, but simultaneously, the conditions were the common denominator as litany of mistakes was evident.
A free from Thomas Edward Donohoe in the opening minutes of the half, levelled matters again, but Dean Carroll was on hand to punish a mistake in the Denn defence to nudge the "Goonies" back on in front. Conaty, who was the shining light of the Denn attack, kicked over a great score after Keogan did well to win possession and the ball was in the back of the Drumgoon net soon after through Cian McCann, only to be over-ruled for a square ball by the umpires.
At this stage, Denn had decimated the Corey Smith kickout as they proceeded to dominate possession for over 20 minutes, but poor shooting and shot selection led to their downfall and when Moynagh pointed a fantastic score from the left boot eight minutes from time, it re-ignited Drumgoon and it gave them the impetus to see the game out at 0-8 to 1-4.
Fegan pulled off a great save from Carroll as Drumgoon grew in confidence, but Carroll was not going to be denied when he curled over a brilliant score from the wing soon after, and from there on in, Drumgoon deservedly hung on to capture the title.
Drumgoon: Corey Smith, Dean Hand, Killian Moynagh, Mark Murray, Dominic Donegan, Conor Moynagh (0- 1), Shane Smith, Conal Farrell, Darren Lavery, Dean Carroll (0-3, 1f), Darragh Lynch (0-1), Barry Cooney, Patrick Lynch, Keith Fannin (0-3, 1m), Paddy Smith (0-1)
Subs: Euan Crossan for Shane Smith, Ben Brennan for Patrick Lynch, Liam Smith for Dylan Hand, Aogan Farrell for Paddy Smith, Enda Shalvey for Darren Lavery
Denn: Mark Fegan, Leon Cobey, Michael Gaffney, Cian Courtney, Bernard Galligan, Conor O Reilly, Mark McSherry, Bernard Gaffney, Oisin Kiernan, Shane Galligan, Cavell Keogan (0-1, 1f), Sean Donohoe, Thomas Edward Donohoe (0-1, 1f), Cian McCann, Ben Conaty (1-2)
Subs: Jamie Reilly for Cian McCann, Oran Callaghan for Shane Galligan
GAME AT A GLANCE
Man of the Match
This was one of those hard-fought games played in difficult conditions where it was hard to pick out one individual who stood out ahead of the rest. County man Conor Moynagh turned in a very productive shift and scored a gem of a point in
the second half. Darragh Lynch impressed for the Eire Ógs too while the ageless Keith Fannin, who remains the go-to man up front,was very good in the first half. Ben Conaty played well for Denn while defender Mark McSherry did a good job marking one of Drumgoon's danger men, Dean Caroll.
Score of the match
Conor Moynagh's point in the second half gets the vote. Drumgoon were under the cosh in the second half and had scored one point in 22 minutes when the former Cavan U21 captain came up on the left wing and scored a great point from left boot. It was a key score. which helped turn the tide Drumgoon's way.
Talking point
The big one was Denn's abject performance. The Crosskeys-based side scored just three points in 60 minutes. They were very flat yet if they had taken their chances, they could still have won it. In hindsight, the Mountnugent games took it out of Denn emotionally and physically. However, none of that should take away from the winners. After a sticky start to the league, they have found their stride at the right time and played some brilliant football in recent week
Drumgoon possess a potent combination of athleticism, physicality and footballing nous and crucially, they have plenty of firepower up top. This was a terrific title success for the Boyle Park club. They won an Intermediate Championship in 2002 and another in 2011 and their supporters will be dreaming of landing the Gilroy Cup for the third time and, with some improvement, they could yet have a say in the destination of that trophy.