Drumgoon's Football Story
By Tom Farrell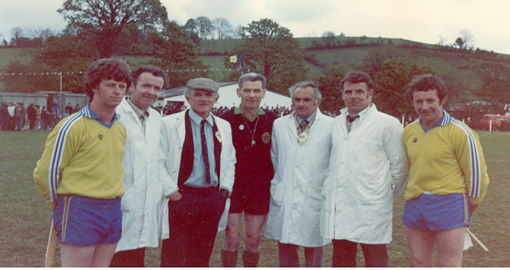 At the official opening of Boyle Park, in 1982, pictured left to right.
Eugene Mc Cabe, Seamus Mc Nally, Gerry Carragher, Peter Mc Nally, Patsy Boyle, Hughie Morris, Eamon Mc Ardle.
A History
Prior to Gaelic football being put on an official footing a form of football was played in the parish certainly since the 18th century. In Fr.Dan Gallogly's excellent book,"Cavan's football story"; James Danials of Lisdua, Maudabawn is recorded as having related that after games in Ralaghan Meadows; two players one from either side; would start boxing and whoever won the bout was declared the winner of the game.
Matches took place between Cootehill and Drumgoon with up to one hundred partisan competitors from either side meeting at Drumgoon Bridge and the game started. A ball made from hay ropes was used, and the winners were whoever got the ball first across the opposing parish boundary lines some four miles away in either direction. During these games no quarters were given, and indeed the first games officially organised throughout County Cavan in the 1800's turned out to be occasions for excessive drinking and faction fights. It wasn't until the early years of last century that football was put on a sound footing in Cavan and controlled by a County Board.
Amongst the first clubs in the area were Maudabawn Hunters officially affiliated in 1904 and the now legendary Bough Shamrocks in 1906. The fine grounds which are now the home of Drumgoon GFC are in the town land of Bough, and the grounds once belonged to the Boyle family who formed the backbone of the Bough Shamrocks team. Indeed it can be truly said that Bough Shamrocks were the forerunners of Drumgoon G.F.C as we know it today. One of the earliest organisers of the Bough Shamrocks club was Alex Mc Cabe,Bough. Amongst the players who donned the green and gold for Bough Shamrocks were:Alex Mc Cabe, Frank, Jamie and Eddie Boyle, Owen Coyle, Paddy McCabe(Bough), Jimmy Wallace (Knappagh), Andy Foy, Jemmy Prior (Lisagoan), Eugene Garraghan (Kespen) and H.McElroy (Latton).
Of course, there were no playing pitches as we know them today in the early years and football often took place clandestinely in fields owned by local farmers. Most of the games were played during the winter period, when fields were readily available. Practically every area in the parish had a local football team and amongst them were: Killarue, Dairy Brae, Borroughy Red Bogs, Drokagh, The Feiles, Knappagh and Doonegans Rovers from Maudabawn. One of the earliest games recorded at this stage was a game between Drumgoon and Latton. The game was billed as Cavan versus Monaghan, played on Tackneys meadow, Killatee, around 1906 and refereed by Paddy Crummy.
The ball used on that day, and indeed often used then was made from a pigs bladder. Most games were still not properly organised and Jack McGorry, Laraweehan, recalls a game between Knockbride and Drokagh on a field beside his own house known as McGorry's flats in which neither side wore jerseys or boots. For the return game Jack recalls how the Drokagh team walked to the Crooked Bridge, Cullies.
One of the first men to help in amalgamating all the various clubs in the parish under the name of Drumgoon Lamh Dearg was Jack "Whalebone" Buckley, The Middle Chapel, who later was to play county football for Dublin, and also played a leading role in the nationalist struggle. Also to the fore at this stage were Paddy McCabe, Middle Chapel, who also played county football, this time for Cavan and Father Galligan,C.C.,Maudabawn.
The first game played by this team was a match on Foy's green against Father Galligan's previous club, Denn GFC. Mary Mc Bride, Killyrue recalls how her mother told them of the Denn team passing by the house on a horse brake on their way to Foy's green. If players had to travel long distances to games they were carried by long-car, brake or occasionally ass and cart. In 1918 Drumgoon played Cootehill on Gaelic Sunday, on Foys green, see photo below. On this occasion Drumgoon were wearing red jerseys, probably inherited from the Borroughy Red Bogs. Next Drumgoon Lamh Deargs wore were hand knitted jerseys in the same colours as one of their predecessors, Bough Shamrocks, green with a gold sash.
By 1915 Drumgoon football was well established on a sound footing. They were ably led by such great as the legendary Frank Boyle and Jack Buckley. Tradition in the parish has it that these were the best players ever to play for Drumgoon. The team was quickly promoted up through the ranks during these early years and in 1918 there were only three senior teams in East Cavan, Drumgoon, Virginia and Crosserlough.
In 1918,Drumgoon were beaten in the divisional final by Virginia by one point. Among the early players at this stage were, Master Cooney, Cootehill, who also played county football with Cavan, Frank Boyle, Bough; Tommy Dinnean, DairyBrae; Jamie Sheridan, The Lough, Jack Buckley, Middle Chapel, Hughie Hughes, Clough; Phil Reilly, Mullahard; Mick Dempsey, Skerragh; Joe and Paddy Masterson, Cashel; Johnny McGorry and Larry Carolan, Killatee; Paddy Donohoe and Jamie McKiernan, Kill; Owen McEnroe, Kespen.
All the members of this team wore caps while playing except Joe Masterson,who always wore a hat. The home games were now played on Foy's Green, Annsfort. Men were placed all around the field to prevent people gaining entrance without paying the charge of 6d; but 3d would also allow you in legally. Money was raised for the club by running dances in lofts such as Tom McGee's, Killarue Dan Crossons, Drumnaveil and P.McQuaid's of Lisdua. Raffles also took place, the prize normally being a pair of Hotspur football boots costing 13 shillings and a football. Teams played 13-a-side then and another feature of the game was the sideline balls which were thrown in rather than kicked as now.
A former Drumgoon player, 'Red' Paddy McGorry, Kespen was reputed to be adept at scoring all throw-ins within 30 yards of goal. Another feature then were the opposing forwards lining up at centrefield for the throw-in at the start of a match. Sonny McCabe, Drumgoon, recalls how a challenge match between Drumgoon and Killanny was delayed for some time due to a misunderstanding when neither team would let go their grip on their opposite number. A free-for-all wrestling match broke out involving 24 eager participants and it was some time before the wrestling finished and football commenced. Drumgoon travelled to Killanny on that day on a horse brake owned by the White Horse Hotel. When travelling they always nailed a Drumgoon flag to one side of the brake and a Tricolour to the other. Drumgoon now played in red jerseys, and in the year of the Russian Revolution they were often taunted in fun of being communists.
In February, 1919 a report appears in the "Anglo Celt" exhorting all Gaels in parish willing to don the red to attend Annsfort Green for a match with Carrickmacross Emmetts, The Committee in 1919 was; President, Mr Patrick Foy, Lisagoan;Treasurer, Mr.P.Dempsey, Skerragh and Secretary, Mr.O'Brien,N.T. Killarue,. In 1919, Drumgoon entered the league under the name Cootehill-Drumgoon United and played against such teams as Laragh Sons on O'Rahilly; Drumbo and Cavan Slashers. They also played challenge games with Ballybay, Corcavan and Latton. In 1919 at special sports day on Foy's Green to commemorate the 1916 rising, Drumgoon played Latton. A national holiday was proclaimed by the volunteers,and hundreds turned up at the sports. The team on that day included Frank Boyle(capt).H.Hughes,J.Cooney, F.Buckley, J.Masterson, M.Dempsey, P.Donohoe, L.Carolan, T.Dinnean J.Sheridan. J.McGorry. J.McKiernan, P.Dempsey, P.McNally, C.McQuaid. P.Carragher and P.Masterson.
The Twenties
At the start of 1920 the three teams in Division One of the Eastern Senior League were; Virginia, Kilnaleck and Drumgoon, however, their fortunes lagged for a number of years at this period. In common with most of the G.A.A. clubs in the area the Home Rule Movement absorbed the energies of the young men of the parish. Many joined the Redmond and McNeill volunteers and became involved in the national struggle. During 1922 some of these players could not ever afford to be seen in public,and in the words of a long time faithful Drumgoon supporter, Peter Connolly, Kilclaugha. 1923 saw Drumgoon G.F.C with no team and no money. However following the winning of our freedom, in which many members of the Gaelic Athletic Association played prominent roles, football slowly got going again. However,it was not until 1926 that Drumgoon were officially re-affiliated by Father O'Reilly. CC. Maudabawn. This time the officially registered name was Drumgoon Eire Og. The year 1926 saw the emergence of a great side.
They started the year with two challenge matches against Latton and Ballybay and succeeded for the only time in their history in reaching the final of the county championship. A new outfit was made for the team by Mrs.Pete Lennon,Cootehill and the club reverted back to their original colours of green with a gold sash and long black togs. These jerseys may be seen in the accompanying photograph of the 1926 team. The team won their way easily to the final, but fate was to intervene at the last moment. Two of Drumgoon's greatest ever footballers departed before the final for America, never to return to the playing fields they loved so well.


The 1926 team wearing their green and gold jerseys.
The team captain of the time,Frank Boyle and Eugene Farrelly sailed from Cobh, County Cork in September,1926. The final was postponed a number of times and finally played in late November in Breffni Park,Cavan. The Anglo-Celt reported how two goals in the early stages of the game set Drumgoon Eire Og an uphill battle. More misfortune followed when P.Carragher was injured and was replaced by James Kerr. Their only score in the first-half came from Ben Dempsey, despite a courageous display by team-captain, Johnny McGorry, Cavan Harps ran out easy winners. The Drumgoon Eire Og team on that day was; H.Hughes; P.Carragher, J.Sheridan, J.McGorry(Cap) J.Sheridan, J.McBride, C.McQuaid, J.McEntee, M.Dempsey,G.McCabe, M.Cochrane, J.McNally, P.Clarke, B.Markey and J.Bannon.
THE THIRTIES.
Many great footballers emerged in the 'thirties' and in 1930 the Drumgoon team included Joe Masterson,Cashel. Peter Carragher, Knockatain, Paddy Corcoran, Bough. Charlie McQuaid, Lisdua, Larry Carolan,Killatee, Jemmy Sheridan, Jemmy ,John and Frank McCabe, KIllatee, Jack McGorry, Laraweehan, J.McMahon, Glasdrummond, F.O'Sullivan,Cootehill, Tommy and Andy Clarke, Douragh, John and Phil and Hughie McBride, Killyrue, Jack,Mick and Paddy Daly,Clonraw, Mick Mulligan,Clonraw, J. McNally, Drumroohill, H.McDonald.Clough, Ben Dempsey, John Heery, Clonraw, Fred Connyngham, Killyrue and Mick Dempsey. The Secretary in 1933 was John Shalvey, Corragary. Football was now the chief pastime of the youth and every game was played and replayed at firesides throughout the parish. Many interesting games are still recalled from this time,one which Jemmy McCabe, Killyrue recalls is walking to a place called Mad Dog Point at Shinan, Shercock to play for Droka against Shercock, Jemmy recalls walking along with Jack and Packie McGorry,Hughie McBride,Eddie Murtagh and Eddie McPhillips. In a famous game with Killinkere which ended in a melee, Jack McGorry recalls holding Joe Stafford the great Cavan Footballer scoreless. Another famous game from this era was played at Kate Malone's meadow, Lisagoan between Droka and Knappagh. A long time Drumgoon stalwart, who also played for Cavan, Larry Carolan, Killatee, refereed the game which lasted for a full three hours without a break.
In common with most clubs throughout the county, Drumgoon was subjected to the reverberations of the County Board split in the early 1930's. In "The Carrickmacross Affair" as explained in Fr. Dan's book politically minded people tended to explain the affair in terms of party politics; however the original reason was the fixing of the 1930 Ulster Final in Carrickmacross. At a County Board meeting, Cavan refused to play there but subsequently some members of the County Committee sent a makeshift team to play. This resulted in a split and was followed by a fiercely contested battle for the position County Chairman, Drumgoon G.F.C.annual general meeting was held after mass in Maudabawn,at the corner of Pat Carolan's house. Unfortunately, politically motivated people who previously were not involved in the club, attended the meeting and putting politics before the club, the long serving Chairman was removed from the chair.
The question then arose on who to vote for County Chairman,between Seamus Gilheany and B.C.Fay. The club split roughly on party lines and difficult for youth to understand today the meeting ended without and conclusion being reached. The independent minded players went one direction while the politically motivated committee went another. The result was disastrous for football in Drumgoon. The club split and players went to surrounding clubs such as Latton, Cootehill, Kill and Knockbride and for a number of years the parish was not represented by a Drumgoon football team.
All was not lost however, and great Gaels such as Johnny McGorry, Larry Carolan and Sonny McCabe were to the fore in getting the club going again, In 1937, Master Thomas Curry from Dernakesh,posted a list of some forty players at Maudabawn Chapel, announcing that a special practice match was to be played later that day on McCann's meadow Clonraw. The response was tremendous, and a great game ensued. One side was captained by Mick Mulligan and the other by Phil McBride. The response was so good that it was decided to hold a parish league. The parish league provided tremendous interest,and indeed it came as no surprise that the parish was able to produce four excellent teams.The Teams were Killyrue, Borroughy Red Bogs, Droka and the Feiles. Hughie McBride was Chairman at the time and the draw was made in Maudabawn Creamery.
The meeting was attended by Father Maguire,P.P.,Cootehill, who was also the county chairman ata the time.Father Maguire appointed the great Cootehill and Cavan footballer, Herbie Clegg and one of Drumgoon's most favourite sons, Paddy Cochrane as referees. The stand-by referee was Winters from Castlerahan, a well-known county referee at the time, and a brother of Father Maguire's housekeeper. The Feiles were a notable team, rigged out in all-white outfits, with the Red Hand of Ulster on their chests. They played their home games on McGraths meadow and Tommy Shalvey's meadow. Paddy Daly, Clonraw, recalls how John Shalvey organised 3d, dances in Tommy Shalvey's loft. The money raised by these dances were used to buy their fine outfits, and there was enough left over to pay for a day trip to Bundoran. The Feiles travelled to Bundoran and played a challenge match against a Fermanagh team while there. Their team was, John McBride, John McMahon, P.J.,Gorry and Phelim Shalvey; Paddy, Jack and Mick Daly, Luke Reynolds, Charlie Markey, James Reilly, Hugh Clarke, Packie McCabe,John Joe Carney, Frank and Packie Cooney,John and Jim Connolly, Tommy, Johnny and Andy Clarke and Eugene Cusack.
Drokagh played at home on Foy's green,and the team was: Paddy Cochrane, Paddy Boyle, Benny Boyle, Henry, John and Tom Reburn, Terence Masterson, Eugene Garraghan, Peter McEnteer, Michael Quinn, Ted Moynagh, Peter Clerkin, John King, Patsy McCabe and Peter Reburn.
Borroughy Red Bogs played their home games on Leary's meadow,and their team was: Paddy and Jim Dempsey, Packie and Eddie McArdle, Hugh Marron, Paddy Boyle, Denis McArdle, John Kelly, Tommie McEnroe, Pat Kelly, Matt Smith, Peter and Hugh McDonald, Fintan Bell, Alex McCabe, Chris Hennessy, Peter McCabe.
Killyrue played at home on Foy's green and their team was:Tom,Benny and James McPhillips, Dan Bell, John and Packie Keenan, Phil, Pat and Hughie McBride,Owenie Keenan,James McGuire, Con Smith, Jim McCabe, Larry Carolan, Mick Tackney, Brian and Charlie McCann.
In a parish league game between Killyrue and Borroughy refereed by Winters,Castlerahan, the enthusiasm and determination proved too much,the match was abandoned with Borroghy winning "on points". Drumgoon's red jerseys went floating down the Annalee River This game ended the parish league,however it served its purpose and the interest in football was rekindled.
The 'Forties
Paddy Corcoran obtained permission for the club to use Boyle's green,Bough, the pitch we are using today.The green at that time was knee high in grass.The players arranged to meet on the Green and each man to bring a scythe with him.Following loss of much sweat which could be better lost playing football,somebody had the bright idea of burning the grass on the remainder of the meadow.Two teams were picked,and the players togged out.In the heat of the game,the fact that the wind had changed the direction was overlooked,and when the players returned later to tog in they found that their clothes had been burned.Peter McEnteer,Lurganboy recalls how he lost a three- piece suit which he had bought the previous week and had to run home togged out.A superstitious member of the club decided that the burning of the clothes should be interpreted as a bad omen and it was decided there and then to seek a anew playing field.That very evening McGraths meadow,Annahard,was procured.However, their hard work was not yet over,two large drains forming part of Murphy's mill race ran right across McGrath's meadow. A veritable army of horses and trailers was organised and no less than 5ft. of earth was moved from the side of McGrath's brae to fill the drain.
During the 1940's Drumgoon G.F.C. played most of their home games on McGrath's meadow. On a number of occasions when the meadow was in flood,home games were played on Leary's Meadow,Dairy brae. Despite the fact that Drumggon produced a number of brilliant individual footballers in the forties,no major honour came their way during this decade. Among the committee members at this stage were-Sonny McCabe, Jack Daly, Johnny McGorry and Hughie McBride.
The meetings were held in the bandroom in  Gallonreagh, and the team included John, Packie and Ownie Keenan, Killatee; Henry Reburn, Cashel; Paddy Corcoran, Bough; Benny and Tommy McPhillips, Killarue; Sonny Garraghan, Kespen; John Reburn, Cashel; P.J., Phelim and Gerry Shalvey, Dernakesh; Brian and Charlie McCann, Killatee; Packie Dempsey, Augheshlin; John and Pat Kelly, Mayo; Tommy McEnroe, Drumroohill; Matt Smith, Mayo; Gerry Smith, Benwilt; Peter McEnteer, Lurganboy; James Maguire, Drumgill; Tommy Bannon, Drumgoon; Patsy McCabe, Kilmacrann. This team enjoyed a tremendous following and Jemmy McCaberecalls travelling with them for a game in Kingscourt.So many people were on one of the two buses which went to the game that half of them had to alight to allow the bus clear the ground while crossing Annsfort Bridge.During the 'forties, ,Drumgoon wore red jerseys and black togs with a red strip on them made by Mrs Gargan,Cootehill. Each player also had a pair of red socks knitted.
In 1947 a travelling roadshow called "Mr Presto" was hired to perform in a loft at McGrath's, Annahard. Following a waltzing competition a packed audience were enjoying "Mr Presto's" amazing disappearing tricks when the weight of the full loft proved too much for the timber beams,and the back of the loft slowly sank into the byre below,leaving some people hanging from the rafters and others were standing beside the bemused cows below them. Thankfully,no one was injured,and despite an uphill battle to do so the show did not continue. The chief source of revenue for the club during this period was the annual sports day. Terence Masterson, Lurganboy, recalls the Drumgoon sports in 1946,when Drumgoon played Latton. An L.D.F. parade took place and some other events were: bicycle racing and pillow fighting. Sonny Garraghan recalls travelling to Killinkere in Berney's bus,Cootehill, and how they had to push it up G.Blair's brae, Latully, and later it broke down altogether in Beglieve. A lorry from Bailieborough was hired to finish the journey. Aidan Carragher,Cootehill and Sean Hughes,The Railway, John Smith, Mayo; Mansey Hughes,Mayo, Jack McKenna, Augheshlin, Mick O'Brien, Tullabrick, John and Gerry Fox, Knockatain, Victor and Hamilton Brown, Cohaw, Father Hugh and Father Lee, Degnavanty. Meetings were now held in Phil Coogans, Coragh or McDonalds Forge, Borroughy. Dedicated Gael,Paddy Boyle, Bough, recalls meetings held in McDonald's Forge by tilley lamp, and how he regularly left Secretary, Geoff Kettle home to Bailieborough in the wee small hours.
In 1955, Drumgoon were narrowly beaten by Stradone in the championship at Cootehill, The following year thet met Knockbride in the first-round at Bailieborough, With a minute to go and the sides level, Drumgoon were awarded a free fifty yards out to the left. Gerry Carragher stepped up and sent the ball between the sticks for the winning point. Their efficient Secretary, Geoff Kettle rang the result through to Sean Og O'Ceallachain. That night celebrations were briefly interrupted to listen quietly to sports results coming loud and clear in Carney's Bar, Cootehill, when the Drumgoon result was announced the noise tin the bar sounded like "Hill 16" at full throttle. Hopes were very high that year,however luck was not on their side. At a later stage they lost through injury, such great players as Pat Carragher, Francie Boyle and John Bannon for the all important game with Killinkere. They were narrowly beaten in Stradone,and following years,Drumgoon amalgamated with either Kill or Cootehill in turn for the Championship. However, these amalgamations never paid off for any of the clubs the involved.
The Sixties
In the early 'sixties' the club was known as Drumgoon St.Mary's. As with previous decades they started slowly but soon were to produce arguably Drumgoon;s best ever side. Following a great display against Cremartin. At a Maudabawn Macra na Feirme Sports on Murphy's Meadow,hopes were high for the future. A lean run in the league followed,and a special meeting was called. The meeting was held in McDonalds Forge and a new committee was formed.Gerry Carragher was elected Chairman and Jack Daly was elected Secretary.With a new found confidence,Drumgoon entered the Gold Flake Tournament at Balla, Threemile house in August.1963. In the first round they defeated Cremartin by six points; in the semi-final they beat Latton again by six points. A Dramatic final followed and they overcame Currin in a stirring encounter by the same margin as they had won every game Six points. The final score was Drumgoon 2-8 Currin 0-8 and the Gold Flake Cup was presented to the Captain Peter McNally by a Mr. Bouchier from W.D.& H.Wills.
The team manager on that occasion was Gerry Carragher Knockateane, a long time and faithful Drumgoon Gael both on and off the field,as team manager and a club officer. Gerry recalls the great commitment given by the players on that day and how he used the cup glittering in the evening sun in his half-time pep talk to the team.The following day being Friday saw every Drumgoon fan at Cootehill fair. The chief scene for negotiations and bargaining took place in committee member,Brian Mullins bar. A victory dance was held in St.Michael's Hall. The admission fee was four shillings, and yet over one hundred pounds was paid at the door.The Chairman of the Monaghan County Board, Mr.Michael Duffy presented the medals to the players, and commended Drumgoon for their organisation both on and off the pitch.
Amongst the Drumgoon men represented their county at this stage were Peter McNally who won a Dr.McKenna cup medal with Cavan and two Ulster junior titles. John McNally, Peter Boyle and John Boyle,who played for Cavan minors. In the 1959 All-Ireland Minor Football Semi-Final. Dublin narrowly defeated Cavan and the crowd on "Hill 16" gave John Boyle a tremendous ovation in recognition of his fine display in goals.
Drumgoon now played their home matches in McNally Park, Lattyloo. Two fields were made into one and the boundary hedge was removed by voluntary labour. During the long hot summer evenings Gerry Carragher recalls how committee member, Brian Mullen came to the pitch with refreshments, and always left his car available to the club.
In 1970 Drumgoon won the Cootehill Tournament. This tournament was one of the most prestigious Tournaments in the county. Senior teams from all over the county entered and Drumgoon overcame all opposition defeating Drumalee in the final. The following is an extract from the report in the "Anglo Celt" Drumgoon won the Cootehill Cup and medals football tournament final last Tuesday,when they defeated Drumalee by 1-10 to 2-6 in rugged but entertaining final before a good size attendance in Celtic Park, Cootehill. The game was played with the fervour of a Championship encounter and hard tackling. Plenty of goalmouth incidents and excitement kept the crowd on their toes. The Drumgoon side included the six McNally brothers and their contribution paved the way for their sides meritorious victory. The exchanges were fought very closely, and the sides were level on four occasions. At the interval The score was Drumalee 1-3 Drumgoon 0-5. In the second half Drumgoon trailing by three points put in a great effort. Their reward came through a goal from Philip Clarke, Drumgoon took the lead Three minutes later, but Drumalee leveled. Four minutes from full-time,however Patrick McCabe shot the vital winning point.
The following year 1971 was the year of the tournament victories. Drumgoon entered and won five tournament competitions. This great team won once again the Cootehill tournament; the Lavey Tournament; Latton, Drumgoon and Kill tournaments. A group photograph elsewhere shows a happy gang of Drumgoon Gaels at the annual dinner dance with the five cups on display. In the Cootehill Tournament in 1971 they once again met Drumalee in the final. A report in the "Anglo-Celt states that Drumgoon always had the upper hand and won by 3-5 to 1-9. Drumgoon were first to score when Hugh McNally was fouled and Patrick McCabe pointed the free. At half-time the score was Drumgoon 2-4 Drumalee 1-2. Drumgoon continued to keep up the pressure after the re-start and it wasn't until the last ten minutes that Drumalee came into the picture. The strongest section of the side was the half-back line of Benny McIntyre,Eamon Mc Ardle and Michael McCluskey, with Felix McCabe in good form at midfield. Splendid support was given by Frank McNally on the '40' and Patsy Boyle. The team on that day was as in the previous year, but with the great addition of two footballing brothers who have given such great service to Drumgoon ever since, Thomas and Francis McDonald.
In 1973 Drumgoon yet again won the Cootehill tournament,defeating Knockbride in the final. Amongst the many fine players apart from those listed above were, Seanie McBride,Jim and John McCabe, Aidan and Peter Carragher,Tommy Reilly, Donal Keappock, Declan Farrell, Tommy Shalvey, John Lynn.Tom Carragher and Tom Maguire,again it would take books to record all the players who played for Drumgoon over the years as every able bodied man in the parish practically played at one time or another. In the early 'seventies', Drumgoon showed yet again how well organised the club was.New dressing rooms were built on Foy's Green almost entirely by voluntary labour. In the late 'seventies' no major footballing honour came their way. However during this period the foundations were laid for what surely must be a great future For the G.A.A. in Drumgoon. In 1975 a special park development committee was formed. This committee included Father P.J.Corrigan, Jack Daly, Aidan McCabe, Danny McQuillan, Phil Mullen and Michael Quinn.
In 1976 the club acquired its first permanent home when Boyle Park was purchased from Mary Ann Sherry. Dressing rooms were built in 1979 And the park officially opened in 1982.


The 1980's were not bright on the playing fields with no honours at adult level. However a Major development took place in 1980's.
In 1982 Aogan Farrell convinced the club that they should start from the bottom and build up. For the first time in our history, U-12 and U-14 teams were entered under the Drumgoon flag. This commenced underage training on Boyle Park, and initially some very heavy defeats. Long hours and patience brought results when Drumgoon club won their first ever county championship at any grade, in 1986 when they won U-12 competition.
The historic team was Barry O'Reilly, Alan Donohoe, Aidan Stafford, Patrick McDonald, Philip McDermott, Sean Fox,(capt) Ian O'Reilly, Martin Shalvey, Colm Crossan, Michael McCabe, John O'Reilly, Mark Mermet, Martin Keappock, Brendan Smith and Niall Crosson. Their team Manager and trainer was Aogan Farrell.
Recent Update In September of '86, the U-14 team won the championship. The under age success continues and Drumgoon have been in Breffni Park each year since then. 1991 brought another trophy when the U-14 team captured the league cup. Drumgoon have never before had so many players of skill and experience. In 1991 the Junior B team won through to the semi-final. The minor team had a good run and the under -16 team were beaten in the final.
Success at adult level did not come overnight and it took more than a decade for the conveyor belt of underage talent to produce results. In 1997 backboned by several of the successful 1986 underage team, won promotion out of division 3 football for the first time. Drumgoon were now playing a better standard of league football and it was hoped by all that this might finally bring championship success. Fast forward to September 2000, and Drumgoon are back in a championship final for the first time since 1926. This was a very young Drumgoon outfit which contained many of the successful Markey Cup winning team. St. Aidan's Comprehensive School, Cootehill, had earlier that year won the Ulster Final, capturing the Markey Cup. That winning team contained 11 players from Drumgoon. Drumgoon went into the Junior final as hot favourites against the surprise packets Cornafean who were a battle hardened but ageing team. Mayby it was over confidence or the weight of expectation on such young shoulders,  but on the day Drumgoon found it difficult to re-produce the free flowing football that they had played on their way to the final. Despite their below par performance and playing most of the second half, with 14 men, Drumgoon found themselves ahead by 1 point, with time almost up. Could this really be the day that Drumgoon banished the curse, that the late great Jack Yorke, had reminded us about so often, over the years. But, alas it wasn't to be. One last desperate lob of a long ball into the Drumgoon square, somehow makes its way to the net, and all our dreams turn to nightmares. Mayby Jack was right after all. A black cloud hung over the Parish for several days, but there would always be next year.
Roll on 2001 and with that very youthful set of players looking a little bigger and a lot stronger, hopes were high and sure enough we found ourselves back in headquarters on county final day. This time the opposition was provided by Kildallan, the west Cavan parish containing Ballyconnell. Drumgoon were favourites again and in the first half they were finding the going difficult. With 15 minutes left, the sides were level, when suddenly Drumgoon found another gear. The boys blocked out the pressure of expectation and 100 years of hurt. Their free flowing attacking style of football which they had perfected all year, started to overwhelm Kildallan and they finished the game out in style, to capture our first ever county title at adult level. The massive Drumgoon support, players and mentors went wild at the final whistle. The weight of 100 years was lifted, the curse was broken, and even the most optimistic, could not have hoped for the success, that was now looming on the horizon. The celebrations after the final will long be remembered and not a cow was milked in the Parish, by their normal milkers, for several days.
This team had massive ambition, and the junior title was the start of a great Odessy. Little did we know then, but a 23 game unbeaten run of championship games had commenced. It included an Ulster and All Ireland Championship title. In the Ulster final we defeated Drumhowan from Co. Monaghan and played in Cremartin, we defeated the Connaught champions, Belmullet from Co. Mayo, in the final, of the inaugural All Ireland Junior Club championship.
The All Ireland winning Drumgoon team was:- John Reilly, Jimmy Reilly, Colm Hannon, Martin Clerkin, Keith Fannin, Michael Hannon, Paul Mc Enroe, Jim Mc Nally, Edward Jackson (Capt.),  Paddy Mc Cabe, Ian Reilly, Philp Mc Dermott, Bryan Bates, Adrian Crosson, Seamus Morris Subs Peter Hand, Paul Crosson, Ronan Crosson, Paul Mc Cabe, Barry Crosson, John Mc Donald, Colm Crosson, Niall Fortune, Niall Crosson, Shane Mc Gorry, Sean Clerkin, Gerry Hughes
Team mentors Paddy Bates, Michael Fitzpatrick, Michael Hannon
These were heady days for the supporters who were so used to the lean times. It was dangerous to walk any road in Drumgoon, as there was talk of football everywhere, and balls flying everywhere. The next year Drumgoon were operating for the first time in the Intermefiate championship. Playing some very impressive football, they negotiated their way through to the final, quite comfortably. In the final the met a very strong Denn team, and after a ding dong battle they deservedly emerged victorious. It was only the second time in history, that a team had won back to back titles, at two different grades. Next year Drumgoon went on to reach the Ulster Intermediate Final after defeating the Armagh and Derry Champions. The game against Newbridge from Derry was particularly memorable. The first game ended as a draw after extra time, and in the replay, the smaller more youthful Drumgoon team won through. People in the parish still talk about the brilliant football, we played in that replay. Unfortunately for Drumgoon, the winter break came, and when they returned in March 2003, they went under to the Monaghan champions, Sean Mc Dermotts, in a final played in Clontibret, and the 23 run game was over. Later in 2003, Drumgoon played in the senior championship, for the first time since the twenties. Back at in the twenties there was only one grade. It was a big step up for such a youthful team to move up 2 grades in 2 years, but this didn't faze this team. They came through a tough qualifying group to make the quarter finals. They faced a very experienced Mullahoran team, in that match. Drumgoon were short a number of regulars in that match and went down by 2 points. Since then Drumgoon has been contesting the senior and intermediate championship and in 2011, they captured their second intermediate championship. The young men from 2000 are now mostly retired and many are now rearing our next generation of footballers. We have managed to retain our Intermediate status since, and this year a good blend of experienced and youthful men won the reserve League. On one of the wettest days of the year, we defeated Ballymachugh in Maghera.
Adult Honours
Cavan Junior Champions 2001
Ulster Junior Champions 2002
All Ireland Junior Club Champions 2002
Cavan Intermediate Champions 2002, 2011
Cavan Junior 'C' Champions 2000, 2001, 2011, 2018,2019
Division 3 League Title, 2019