HISTORY

The first girls football teams in the Parish, started in the 90's, when Dernakesh N.S. School entered teams in the schools league. Their first Division 1 success came in 1998, when the girls team won the Cumann na mBunscol mini-sevens final. Dernakesh N.S. 2-07 Carrickabruise 2-06. The report read "Dernakesh N.S. won the 1998 seven a side girls football final at Killygarry. Forty seven schools started out in this competition and full credit to both schools for emerging to the final. The game was close and tense. Dernakesh built up a seven point lead at half time but Carrickbruise, thanks to two goals from Ciara Brady fought back. Pamela Dowd the Dernakesh keeper kept them in touch and in the end Dernakesh were deserving winners by one point. They now represent Cavan in the regional finals.
Dernakesh:- Pamela Dowd, Emma O' Reilly, Breda Mc Cluskey, Ann Smith, Ciara Farrell, Michelle Cunningham, Paula Lynch, Aisling Mc Gibney, Sinead Keenan, Fiona Connolly,
Carrickabruise:- Ciara O' Reilly, Julie Cahill, Julie Keogan, Ciara Brady, Tara Cadden, Christina Rock, Mairead Rock, Sharon Monaghan, Helen Cullen.
The girls represented Cavan in the regional mini sevens and from that tournament Ann Smith and Ciara Farrell, were chosen to represent Cavan in the half time matches in the All Ireland series in Croke Park. Ann played at half time in the All Ireland semi-final between Derry and Galway, while Ciara played at the half time interval in the 1998 Senior Mens All Ireland Final between Galway and Kildare.
With so many good footballers coming through the system, soon some former students, organised a Ladies team to represent Drumgoon.
Aisling Mc Dermott organised the first Drumgoon game, a challenge match away to Donaghmoyne. Training commenced on Parker's meadow, next field to Foy's green, as Boyle Park was out of action, for a year, due to re-surfacing. Their first manager was Tom Farrell. Tom trained them at the same time as the U14 boys, and they played highly enjoyable practice games against each other. Their first official game in Drumgoon colours was played on the pitch at the Comp against Ramor in 1994/5, and Tom also refereed it, luckily he cannot remember the scoreline.
In goals was a youthful Teresa Clerkin, Outfield were Denise Clarke, Aisling McDermott, Margaret Mc Dermott, Pauline Shalvey, Blathnaid Farrell, Maria Clarke, Caroline Clarke, Bernie Clerkin, Muireann Mc Dermott, Derbhla Mc Donald, Donna McGahon, Ann Shalvey, Nicola Shalvey, Anne-Marie Mc Nally, Maread McNally, Irene McCabe Aoine McQuillen, Katryn McDermott, Diane Pepper Fiona Morrris, Ann Pepper.

The girls quickly improved and in 2000, trained by Philip Mc Dermott, Seamus Morris and Charlie Coyle, they brought the first adult football title to the parish, beating the men by one year. In Killygarry, they defeated Knockbride in the final of the Division 2 Intermediate League and were captained by Blathnaid Farrell.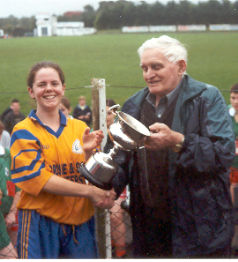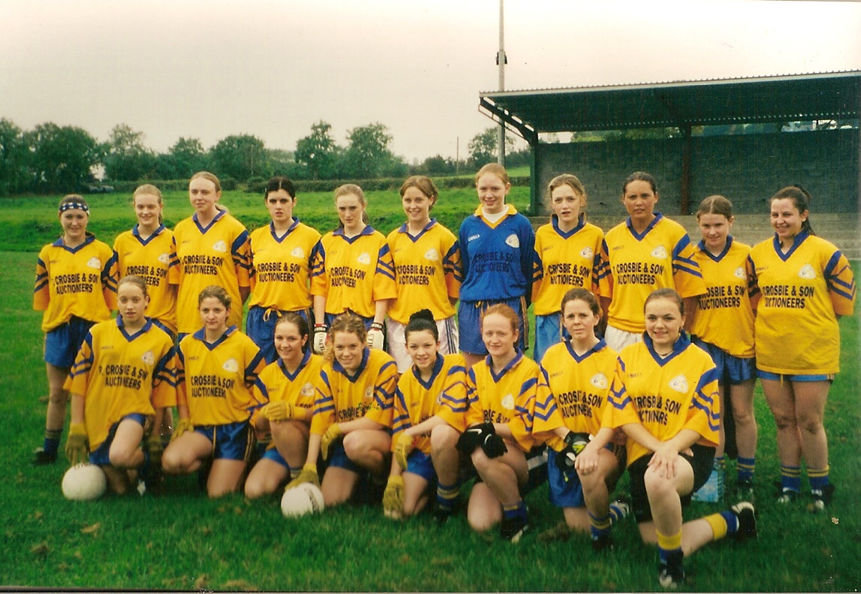 2023

The under 14 girls League champions for 2023 are , Ciara McCabe, Lucy Morris, Roisin Bannon , Aoibhìn Callaghan, Grainne Hughes, Rachel Carragher, Emily Gallagher, Nicole Morris , Lesha Crosson, Ella rose Boyle, Carly Shalvey , Kerry-Ann Morris , Liah lynch, Clara Crosson , Grace Geoghegan, Sofia Morris, Marrieann Mc Dermot. Well done also to the under 12 girls who reached their final in 2023. The team was Alice Ward, Lily Clarke, Marieanne Mc Dermott, Aisling Holden, Emma Clerkin, Aoibhinn Fox (C), Lily Kate Clerkin, Amy Kelly, Tegan Rhea Clerkin, Katie Mc Cabe, Kayla Johnson, Sophia Bannon, Tegan Mc Dermott, Cliona Mc Cabe, Makayla Mc Dermott.
Ladies Report 2021
Drumgoon Ladies were fortunate to be able to get football played this year which was a welcome distraction with the Covid crisis. We had 123 registered players / coaches in our club this year which was the highest our club has seen in its history. We had a great turn out every Saturday with our u7 & u9 teams who near the end of the summer finished off playing some blitz games with local teams which they all enjoyed. We would like to thank Aisling McDermott and Teresa McCann for organising this every Saturday morning and all the parents and players who help them on a Saturday morning.
Our u12, u14, u16 and Minor teams competed well this year with our u12 girls winning the Div 5 league Final against Laragh in a very hard fought exciting game and our u14 girls narrowly losing out in the Div 5 Championsip final to Templeport. In August we competed in Feilie with our U15 girls who won one
game against St Finbars and lost their second game to Ballyhaise. They needed to win both games to proceed to the quarter finals. I would like to thank the coaches for their hard work and commitment to these teams.
U12 Coaches – Ciarian & Maria Lynch and Ellen Gallagher
U14 Coach – Gerry Hughes and Diane Pepper
U16 Coach – Jimmy Reilly, Damian Clarke, Diane Pepper
Minor Girls – Damian Clarke, Aisling McDermott and Caroline Clarke
We would also like to thank the following sponsors of our underage this year. Rice Agricultural Contractor for Jerseys for our U7& U9 teams Mark Keappock for sponsoring the Food for U14 girls after their final
Martin Hughes for Drumgoon Football bags for our U16 girls Annmarie Bannon, kazoo Kids for Shorts & Socks for our Raffle & flags for our Championship Final
We were very proud to have 2 girls from our club selected to represent us at County Level u16 Emma Carroll and Minors Catherine Ahearne. We would like to Congratulate Catherine Ahearne and the Cavan Minor Team on winning the Ulster Gold Final.
Our Senior Ladies brought great excitement to the parish on reaching and winning the County Junior Championship Final, Captained by Teresa McCann. This was a very proud moment for our dedicated players and management to bring the cup back to the Parish. The roads all around drumgoon were flooded with Drumgoon colours and good luck signs and wishes from so many. So thank you to everyone for that. We would like to congratulate Pamela McCabe on receiving the Player of the Match at the Final. They ladies went on to make history in our club by hosting the Ulster Junior Championship Quarter final on Boyle Park, unfortunately we lost out that day by a small margin to Bredagh LGFA. I would like to thank everyone who helped out on that day, stewards in car park and ladies providing refreshments. I would like to thank the players for their hard work and dedication this year and especially the management Jimmy Reilly, Damian Clarke and Aidan Brazil and physio Fiona O'Reilly for their hard work, time and commitment to the team. We would like to thank our main sponsor Patrick Moynagh/Moynagh
Accountancy. Patrick has been very generous to our ladies club providing them with new jerseys and varies merchandise over the year. Patrick has always shown great belief in our senior team and we were only delighted to prove him right this year by lifting the Fresh Today Junior Championship Cup in Breffini
park. We would also like to thank all the numerous local businesses who sponsored the ladies on the build up to the Junior Championship their support was greatly appreciated.
Finally I would like to thank all the ladies committee, players, parents and our supporters who have helped our club over the year without you we would not be able to continue the good work we are achieving at Ladies football. Also I would like to thank Jimmy Reilly and Margaret Hughes for all their support in providing us with the facilities we have on Boyle Park and in helping organize
the pitch for all our games over all ages. On behalf of all at Drumgoon Ladies I wish you all a healthy and happy 2022. Caroline Clarke Ladies Chairperson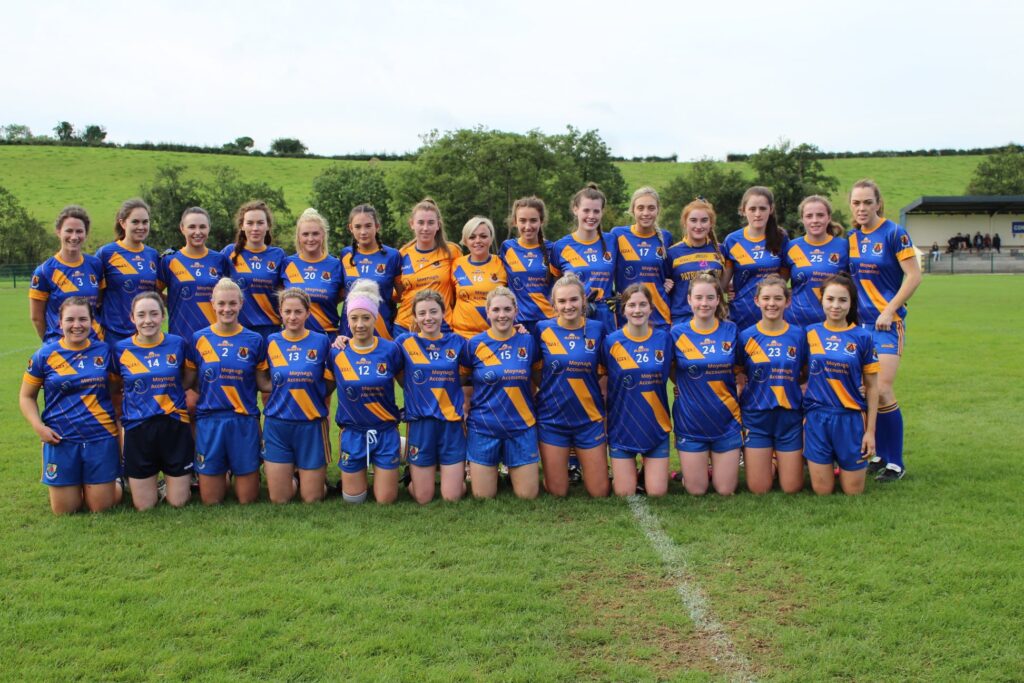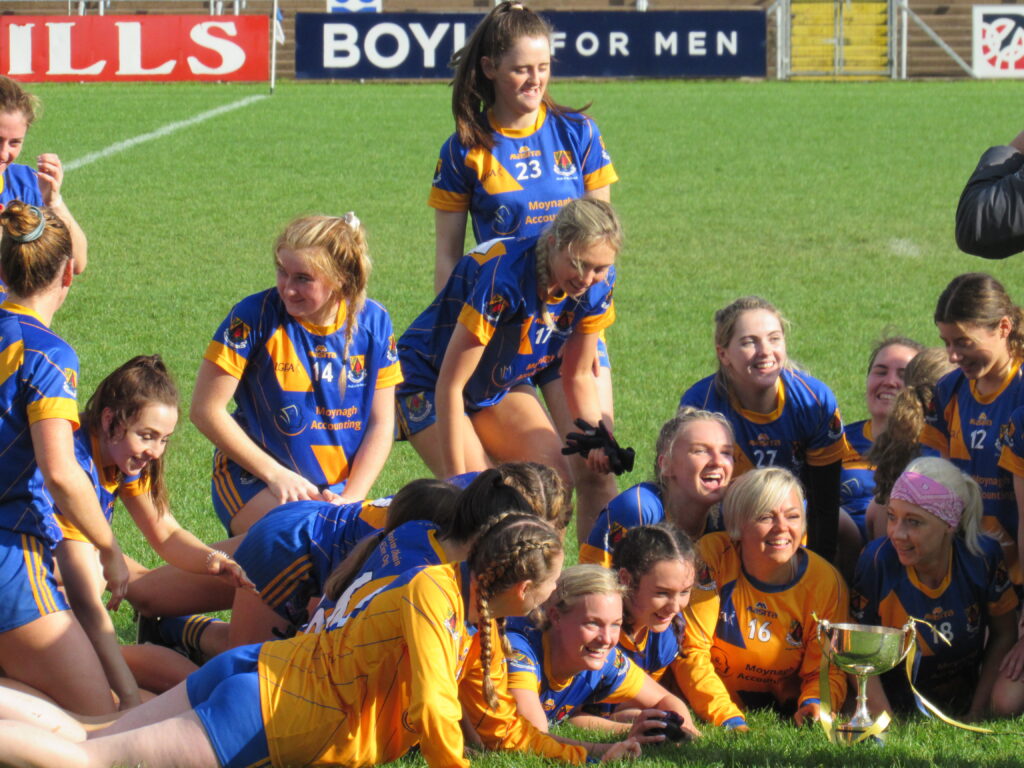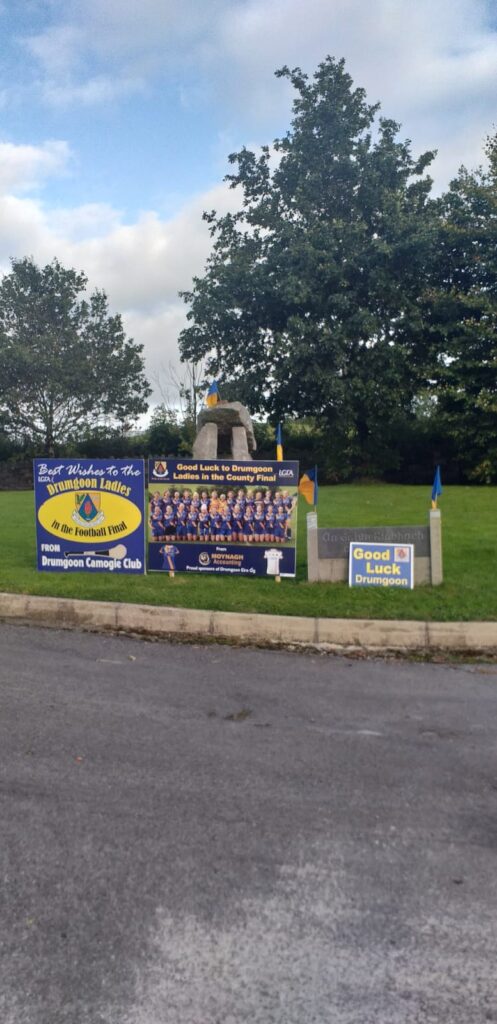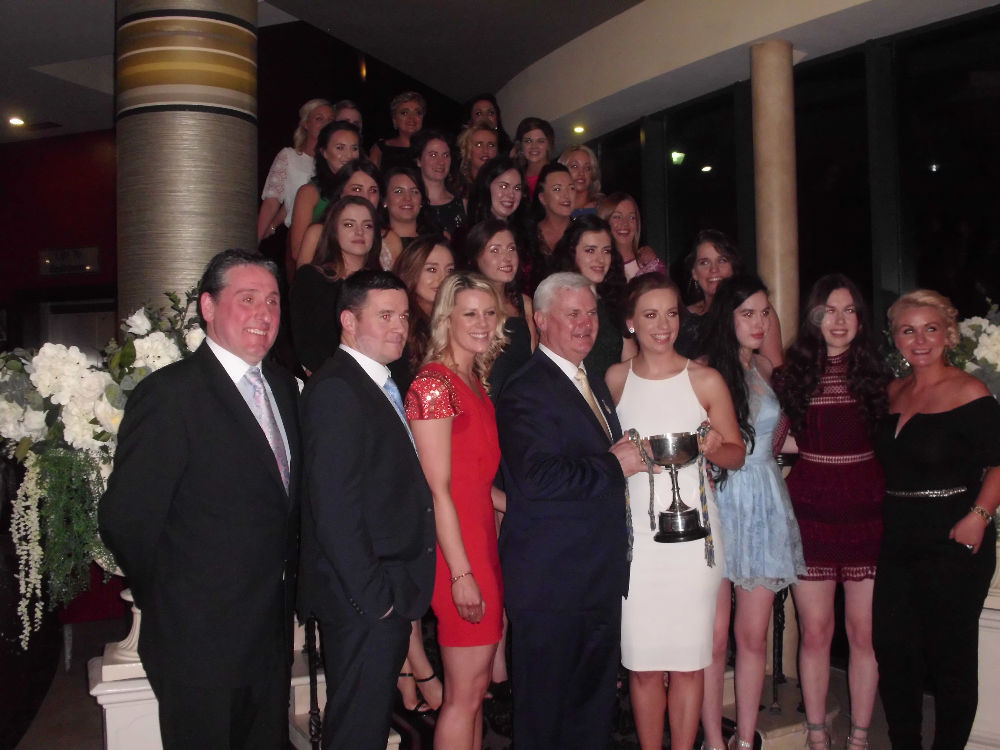 .
Drumgoon Ladies – Back in the Silverware 2009
The Drumgoon's ladies, swept to an impressive ACFL Shield Title in 2009, in only their second year in Division 2, under the keen stewardship of Michael Murray and Adrian Crosson.
With a rich blend of youth and experience, the Drumgoon team boast County stars Siobhan McGorry at midfield, Niamh Farrell and Christine McCutcheon, with the emerging talent of Sarah McCabe, Cliona Farrell, Elaine Clerkin, Deirdre Mahon and the experience of Cora & Margaret McBride, Anita McKitterick, the Murray sisters, Doireann, Eadaoin & Ciara Farrell, the McDermott sisters and Theresa Clerkin.
All Ireland and International Honours
Congratulations to Carmel and Margaret McBride, All Ireland Camogie Winners with Cavan, and special congratulations to Margaret, who was a member of the Irish Shinty team who defeated Scotland in the Autumn Celtic International.
SENIOR LADIES SHIELD 2004
Drumgoon are county champions Drumgoon 1 – 12 Ballyhaise 2 – 04
Drumgoon ladies put in a very good performance on saturday evening last in Ballyhaise on a glorious sunny afternoon to capture the senior shield. Despite going in as underdogs, Drumgoon dominated the game from start to finish, were first to the ball all over the pitch and thoroughly deserved their win.
Drumgoon start strongly with 15 year Siobhan Mc Gorry dominating midfield with great support from the energetic Aisling Mc Dermott. Playing the long game and continually hitting the ball into space Drumgoon started racking up the scores. Muireann Mc Dermott was in great form at corner forward and she quickly shot over two points. Drumgoon had two further points from Teresa Clerkin and Ciara Farrell before Ballyhaise opened their account througha goal from julia leddy. Balyhaise were not going down without a fight and soon drew level with a point from Collette mc Caul. With both sets of defences now in command scores were hard to come by. Ballyhaise applied the pressure but great work at full back by Catherine Mc Bride kept the tide at bay. Catherine got good support throughout from Sarah Mc Cabe and Margaret Mc Bride. Michelle Murray had a point for Drumgoon shorlty before the break to leave the scores 1 – 03 to 0 – 06 at half time. Drumgoon hit a purple patch after the break and ran into an unasailable lead. Siobhan Mc Gorry went a great run upfield and passed to the equally youthful Doireann Farrell, who cooly slotted home to the net. From the kickout Fiona Murray set up Doireann again to shoot over the bar. Aisling Mc Dermott added another for Drumgoon before Ciara Farrell shot over three unanswered points. Drumgoon were now playing some of their best football in years and the large attendance thoroughly enjoyed the afternoon. Ballyhaise to their credit did not give up and had a late goal from Roisin Greenan, but it was a case of too little too late. Chairperson of the county board, Cepta Traynor presented the shield to the winning captain Teresa Clerkin.
Drumgoon:- Caroline Clarke, Niamh Farrell, Catherine Mc Bride, Karen Boylan, Sarah Mc Cabe, Margaret Mc Bride, Tara Cunningham, Aisling Mc Dermott, Siobhan Mc Gorry, Fiona Murray, Ciara Farrell, Teresa Clerkin (Capt.), Muireann Mc Dermott, Michelle Murray, Doireann Farrell,
Subs: Michelle Cunningham, Clare Mc Caffrey, Paula Lynch, Cora Mc Bride, Anita Mc Kitterick
Ballyhaise:- Sarah Pickett, Sinead Lyons, Maired Mc cabe, Laura Masterson, Aileen Smith, Emma Nevin, Elaine O' Reilly, Aisling O' Reilly, Elaine O' Reilly, Blathnaid Dunne, Aoife Costello, Yvonne Donohue, Julia Leddy, Collette Mc Caul, Roisin Greenan