Camogie Club History

In 1933, camogie was played in the Middlechapel area, under the name 'The O'Leary Club' and a club also existed in Maudabawn.The O'Leary club was formed in May 1933 and Agnes Hennessy was elected Secretary. The players were: Maureen Smith (Capt) Statia Hennessy, Marjorie Carroll, Kathleen Smith, Nuala Smith, Phyllis Smith, Kathleen McCarney, May Reilly, Mollie McQuillan, Mary Ann McMahon, Mollie Mullen, Eileen Connolly, Rosie McNally, Bridie McNally, Elsie Smith, Ellie and Teresa Kelly, Bridie and Eileen McBreen, Kathleen Williams, Bridgie Reilly, Lily Clegg, Doris Lynch, Teresa Kettle, Annie Dixon and Susan Cosgrove.The Maudabawn players were: Agnes McGrath, Minnie Woods, Nan Woods, Maisie Martin, Nellie McIntyre, Annie Keenan, Kathleen McEnroe, Jennie Quinn, Sheila Scully (Capt), Breda Scully, Brigid O'Hare, Bridgie McPhillips, Gretta Daly, Maggie Clarke and Alice Slevin. In August these two clubs played each other in a friendly game with the O'Leary team winning by two goals to no score. Soon afterwards these teams amalgamated to form "The O'Leary Camogie Club, Drumgoon".
On the last Sunday in October, Drumgoon was narrowly defeated by Cavan Town in the replayed final of Cootehill Aeridheacht.
O'LEARY CAMOGIE CLUB, DRUMGOON
In an effort to unite the parish teams and gain the allegiances of town players home games were played in Celtic Park, Cootehill. However divisions within the parish remained and in 1935 Drumgoon played in the senior grade while Cootehill played in the junior competition. Agnes Hennessy was elected to the position of Vice-Chairperson of the County Board at the Convention and this was the start of her journey of outstanding service to the Camogie Association at all levels, from club right up to Central Council, over the next 15 years.
Her daughter, Statia, was a star player for club and county over many years. Drumgoon continued to play in Cavan competitions until 1938 when it disbanded due to the impending war and the harsh economic times. While Drumgoon had some success in local tournaments during the mid-'thirties, the club was not a major force in the county domestic competitions.
Their players in these years included Statia Hennessy, Agnes McGrath, Minnie Woods, Vera McCutcheon, Ellen McCutcheon, Margaret Keenan, Nan Keenan, Nan Woods, Jenny and Bridgie Coyle, Elsie Smith, Nan Slevin, Bridgie McPhillips, Jennie Quinn, Brigid O'Hare, Mollie Sherlock, Ethel Gardiner, Anne Taite, Brigid Taite and Kathleen Halton. In the early 'forties an Ulster camogie final was played in the O'Leary field (Middlechapel area) which was owned by the Kettle family.
1969 Revival
In 1968 some players from the area started playing for Drung, before Drumgoon re-formed their own club in 1969. At a meeting in St. Patricks Hall, Maudabawn, aka Dernakesh Old School, on the 12 April, 1969, the club was re-established. The officers elected were, President, Fr. Peter Smith, Chairman : Jack Daly, Vice Chair Benny Kettle, Secretary : Mary Boyle, Asst. Secretary Kathleen Smith, Treasurer : Joan Shalvey, Joint Treasurer: Brid Fitzpatrick, Committee:- Jimmy Carroll, Patsy Boyle, John Mc Cabe, Other people who helped out then were, John Boyle, Tony Keappock, Donal Keappock, Felix Mc Cabe, The first task was to raise funds and a hop (now disco) was held in the old school (The Kesh) with a four-shilling entry fee. A raffle was also organised which realised £70. This was to keep the club in the black for a considerable time. The first team included, Elizabeth Mc Gahan, Kathleen Smith, Eileen Smith, Joan Shalvey, Marion Shalvey, Una Shalvey, Margaret Shalvey, Rita Mc Cabe, Mary Markey, Breege Mc Bride, Breege Reilly, Nancy Reilly, Ann Mc Cabe, Marian Boyle, Helen Crosson.
In 1972 a strong Primary school team was formed in Dernakesh School, with Mrs Mary Daly being the trainer/organiser, ably assisted by her husband Jack.
The school fielded teams from the early '70's in county competition. The club won the Junior league and Senior championship in 1973. They defeated neighbours Knockbride in the Junior 'A' League final, and won the Senior championship by defeating Kill in the final. The senior team was: Una Shalvey, Ena Shalvey, Carmel Shalvey, Marie Clerkin, Lucia Shalvey, Joan Shalvey, Margaret King, Eileen Keenan, Mary McCabe, Mary Hillis, Rosaleen McQuaid, Margaret Shalvey and Marion Shalvey. Drumgoon won their first Senior camogie league title when they overcame the holders, Castletara in the final played at Breffni Park, to complete the first leg of the Senior double in 1974.
Drumgoon also retained their Senior championship crown defeating the same opposition. The senior panel was: Ena Shalvey, Marion Shalvey, Lucia Shalvey, Joan Shalvey, Carmel Shalvey, Margaret King, Una Shalvey, Eileen Keenan, Mary Hillis, Mary McCabe, Margaret Hand, Margaret Shalvey, Ann McCabe, Bernie King and Joan Gibson. Drumgoon lost to Ballymachugh in the final of the Junior Championship. The team was: Monica Shalvey, Margaret Hand, Anne McGorry, Nancy Reilly, Eileen Keenan, Bernie King, Pauline Shalvey, Geraldine Hand, Brenda Shalvey, Jodie Farrell, Una Shalvey and Maeve McManus.
The club joined with neighbours, Kill and they won their first Minor county championship when they defeated Castletara in the final. The Drumgoon/Kill panel was as follows: Eileen Keenan, Ursula Maguire, Lucia Shalvey, Marie McCabe, Deirdre Coyle, Brenda Shalvey, Mary McEnroe, Marie McGorry, Mary Hillis, Roseann Hillis, Carmel Hand, Caroline Lee, Margaret Shalvey and Anne Reburn In 1975, Drumgoon reached the Senior League final, which was played in Breffni Park. Once again, they were victorious and retained the title they first won the previous year. The panel was: Pauline Shalvey, Carmel Hand, Maeve McManus, Brenda Shalvey, Anne McGorry, Joan Garraghan, Bridie O'Hare, Anne Reburn, Mary O'Brien, Marie McGorry, Geraldine Clarke, Bernie King, Mary Hillis, Bernadette O'Hare, Marion Shalvey and Breege Reburn.
The Novice team also reached the county Championship final at Breffni Park and once again victory was achieved. The panel was: Mary O'Brien, Marie McGorry, Geraldine Clarke, Bernie King, Roseann Hillis, Geraldine Hand, Patricia Reburn, Bridie O'Hare, Pauline Shalvey, Carmel Hand, Maeve McManus, Breege Reburn, Brenda Shalvey, Anne McGorry, Joan Carragher, Bernadette O'Hare and Anne Reburn. 1976 saw Drumgoon secure their second Senior League and Championship double in three years when they defeated Ballymachugh and Knockbride respectively to record the 'double'. The winning panel was: Una McCabe, Ena Shalvey, Margaret Shalvey, Lucia Shalvey, Carmel Shalvey, Margaret King, Joan Gibson, Marion Shalvey, Mary Hillis, Mary McCabe, Marie McGorry, Josephine Farrell, Eileen Keenan, Bernie King and Margaret Hand. The Junior side also reached the League final, but lost to neighbours and fellow parishioners, Cootehill.
1977 saw no titles coming to Drumgoon, but they did reach both the Senior Championship and League finals. Drumgoon came bouncing back in 1978 after their defeats the previous year, when they regained the Senior League title at the expense of a young Cootehill side. The team was: Bernie King, Ena Shalvey, Margaret Shalvey, Carmel Shalvey, Anne McGorry, Lucia Shalvey, Margaret King, Marion Foy, Mary Hillis, Mary McCabe, Marie McGorry and Carmel Hand. Drumgoon retained the Cavan Senior camogie league title in 1979 when they had a one-point victory over Templeport in a thrilling final played at Virginia on Sunday, 27 July.
The panel was: Marie Cahill, Ena Shalvey, Margaret Shalvey, Lucia Shalvey, Carmel Shalvey, Margaret King, Marie McGorry, Joan Gibson, Mary Hillis, Mary McCabe, Pauline Shalvey, Marion Foy, Maeve McManus and Ann McGorry. In the early 'eighties Drumgoon struggled to compete with younger teams before a decision was made to disband the adult section of the club and concentrate on the local Primary school teams. In 1983, the Dernakesh girls triumphed in glory as they won the county Primary Schools title. The panel was: Michelle McCluskey, Fidelma McManus, Colette Markey, Veronica Lee, Fiona O'Brien, Moira McQuaid, Louise Bannon, Carmel McCabe (Capt), Margaret Fox, Martina Boylan, Margaret O'Reilly, Carmel O'Reilly, Jane Power, Margaret Bannon, Aisling Fitzpatrick and Bernadette McDonnell. Dernakesh Primary School had many more successes down the years, winning the Benny Hannigan Memorial Shield on a number of occasions as well as winning the JJ Crossan cup for many years (this was a local tournament organised by the local club).
In 1989 Dernakesh School was defeated by Lacken in the Hannigan Shield final. The panel was: Theresa Heerey, Rachel Gaffney, Rosemarie McCabe, Roisin Keenan, Aoife Maguire, Derbhla O'Toole, Finnuala Dowd, Jean Gibson, Aisling McDermott, Fiona McCabe, Nicola Shalvey, Joanne McCabe, Roslind McQuaid, Louise and Lorraine Gaffney. Drumgoon adult section was back in action in 1992 when the club affiliated Intermediate and Novice teams, and four years later in 1996 the club bridged a seventeen year gap, when they defeated Ramor in the final of the Novice 'A' League at Bailieborough. The panel was: Caroline Shalvey, Eadaoin Farrell, Lucia Smith, Denise Clarke, Roisin Keenan, Jean Gibson, Margaret McBride, Carol Boylan, Nicola Shalvey (Capt), Aisling McDermott, Irene McCabe, Maria Clarke and Michelle McCluskey. In 1997, Drumgoon were promoted to Junior ranks by virtue of their Novice success the previous year, and they reached the championship final, only to lose to Ramor by the narrowest of margins.
In 1998 the club won the county Intermediate League and Championship double. The Drumgoon side was: Caroline Shalvey, Margaret McBride, Louise Smith (Capt), Martina Sullivan, Niamh Smith, Jean Gibson, Geraldine Fitzpatrick, Nicola Shalvey, Marian Clarke, Nicola Clegg, Carol Boylan, Caitriona Lennon and Aisling McDermott. The club entered a team for the Novice 'A' League in 1999 and they reached the final where they met Laragh and after a hard battle Drumgoon were worthy winners.
The year 2000 saw Drumgoon defeat Lurgan in the Intermediate league final with the following panel: Catherine Smith, Roisin Keenan, Anne Marie Bannon, Angela Black, Nicola Shalvey, Catriona Lennon, Aisling McDermott, Fiona Smith, Joanne McCabe, Margaret McDermott, Angela Smith, Sabrina Shalvey, Carol Boylan, Caroline Shalvey (capt.), Geraldine Fitzpatrick, Margaret McBride, Catherine McBride and Nicola Clegg. Aidan Fitzpatrick was the team coach.
Drumgoon reached the 2001 Senior League final, but they were defeated by Lacken. Dernakesh was also defeated by Bruskey in the Cumann na mBunscol final. The panel managed by Nora Connolly was: Niamh Farrell, Karen Kelly, Sinead McDonald, Marie Carragher, Siobhan McGorry, Mary Fitzpatrick, Marie Kelly, Niamh McDermott, Siobhan Smith, Lorna Lavery, Grainne Boyle, Cora McBride, Gillian Kettle, Aisling Mulligan, Doireann Farrell, Kathryn O'Brien, Cliona Farrell, Bridget Markey, Nuala Mulligan and Claire Smith. Drumgoon were back on the winning honours list in 2004 when they won the county Junior double, League and Championship; the club Minor (Under-16) team also reached the County 'B' final where they were defeated by Crosserlough.
The Junior panel of players was: Caroline Shalvey, Louise Smith, Jean Gibson, Catherine McBride, Siobhan McGorry, Nicola Shalvey, Leanne Brady, Pamela Crowe, Irene McCabe (Capt), Angela Black, Maria Clarke, Margaret McBride, Geraldine Fitzpatrick, Sarah McCabe, Fiona Murray, Aisling McDermott, Niamh Farrell and Doireann Farrell.
The Minor panel in 2004 was: Anita McKetterick, Niamh Farrell, Cora McBride, Carmel McBride, Siobhan Smith, Bridget Markey, Siobhan McGorry, Sarah McCabe, Aisling Mulligan, Doireann Farrell, Fiona Murray, Marie Kelly and Laura Shalvey.
From 2004 to 2008 Drumgoon have participated in the Senior grade and no further county titles have come their way. Drumgoon was beaten in the Senior 'B' final in 2007 with the following panel: Catriona Lennon, Laura Shalvey, Irene McCabe, Caroline Shalvey, Carol Boylan, Aisling McDermott, Louise Smith, Carmel McBride, Kathryn McBride, Deirdre Dolan, Sabrina Shalvey, Emer O'Hea, Margaret McBride, Leanne Brady, Maria Clarke, Theresa Clerkin, Jean Gibson, Anita McKitterick, Nicola Clegg and Cora McBride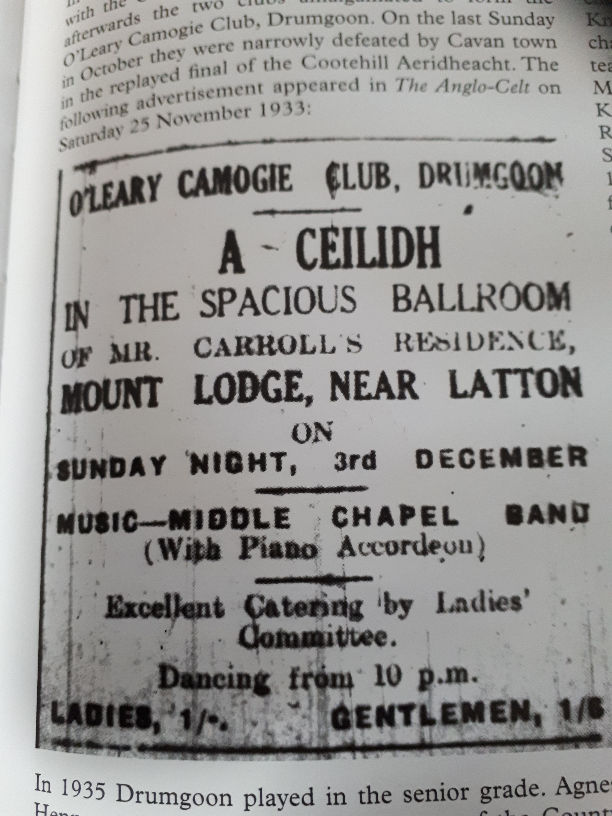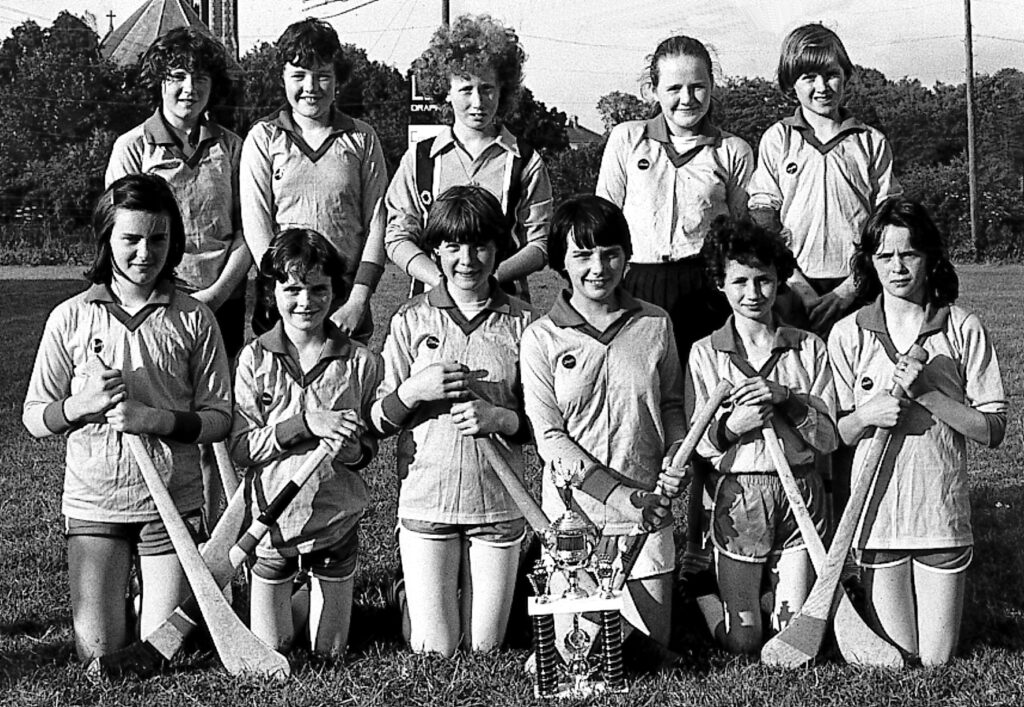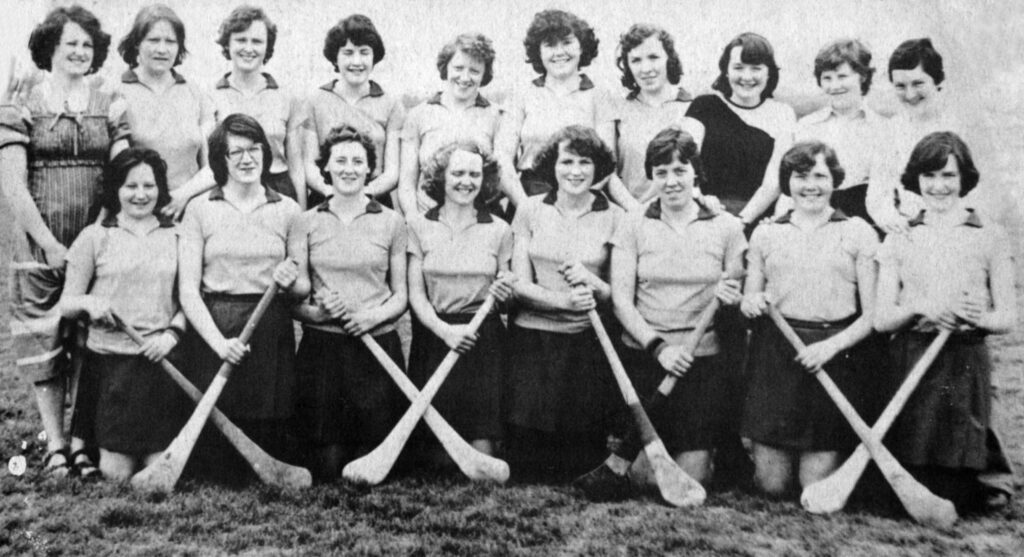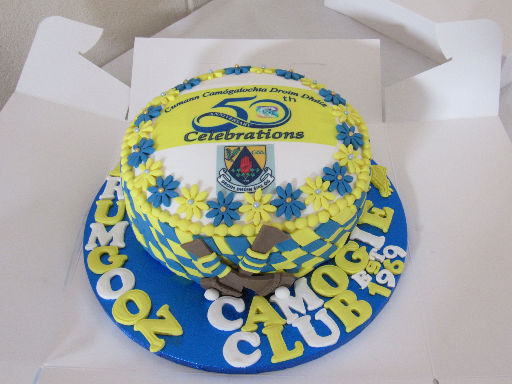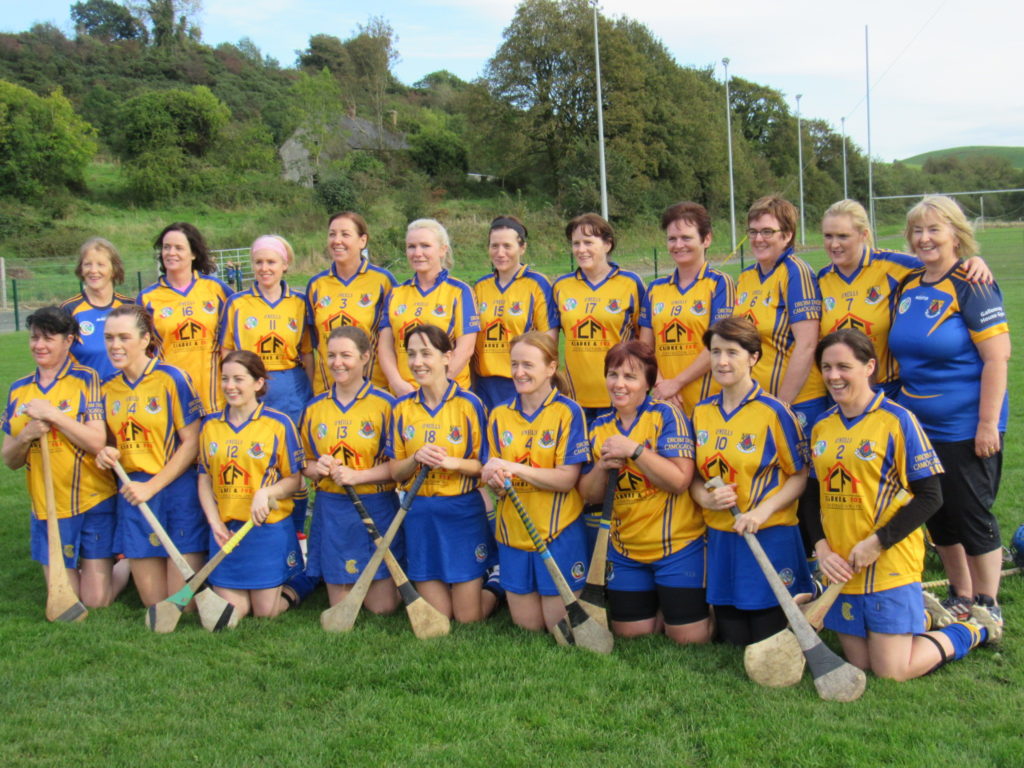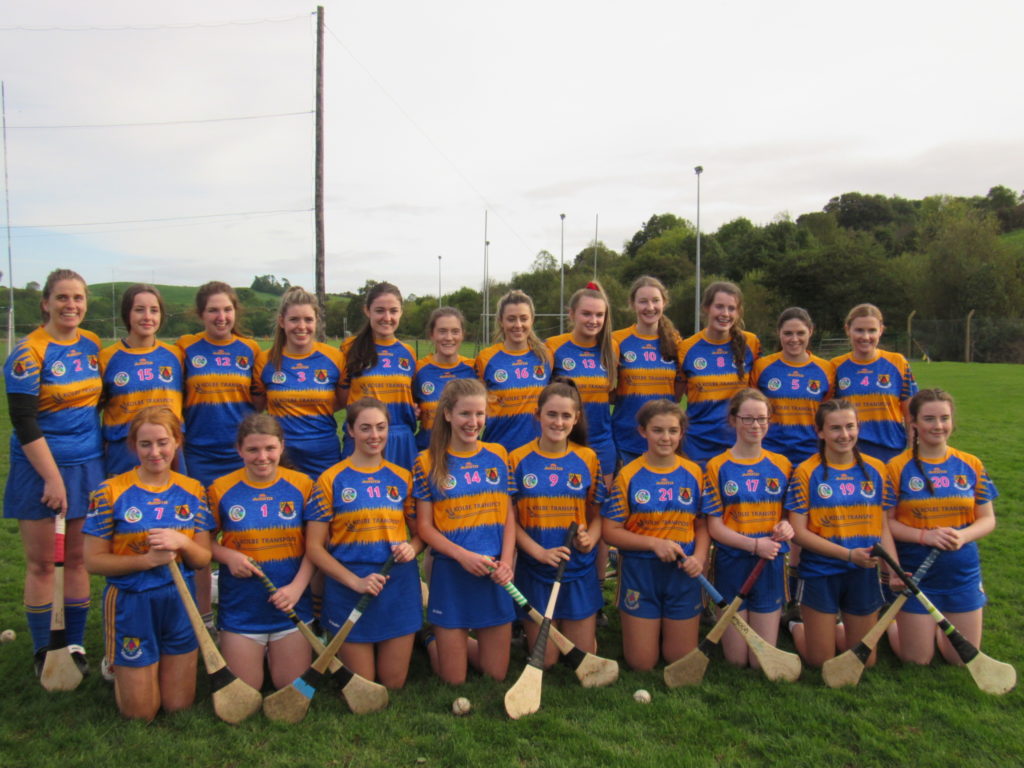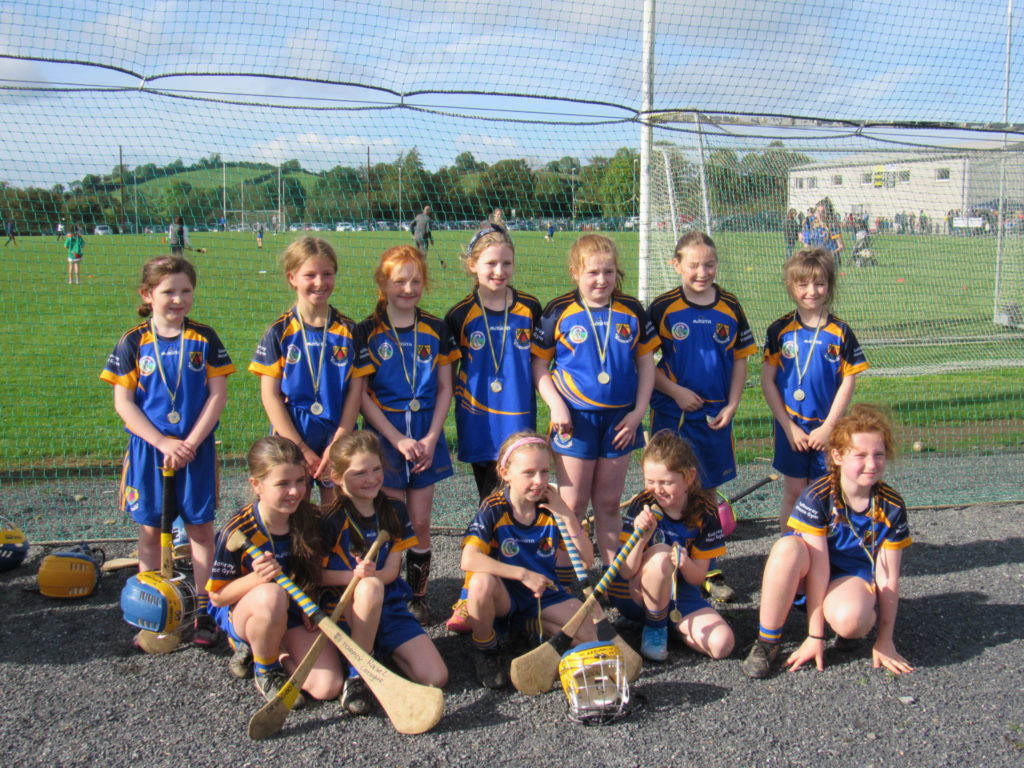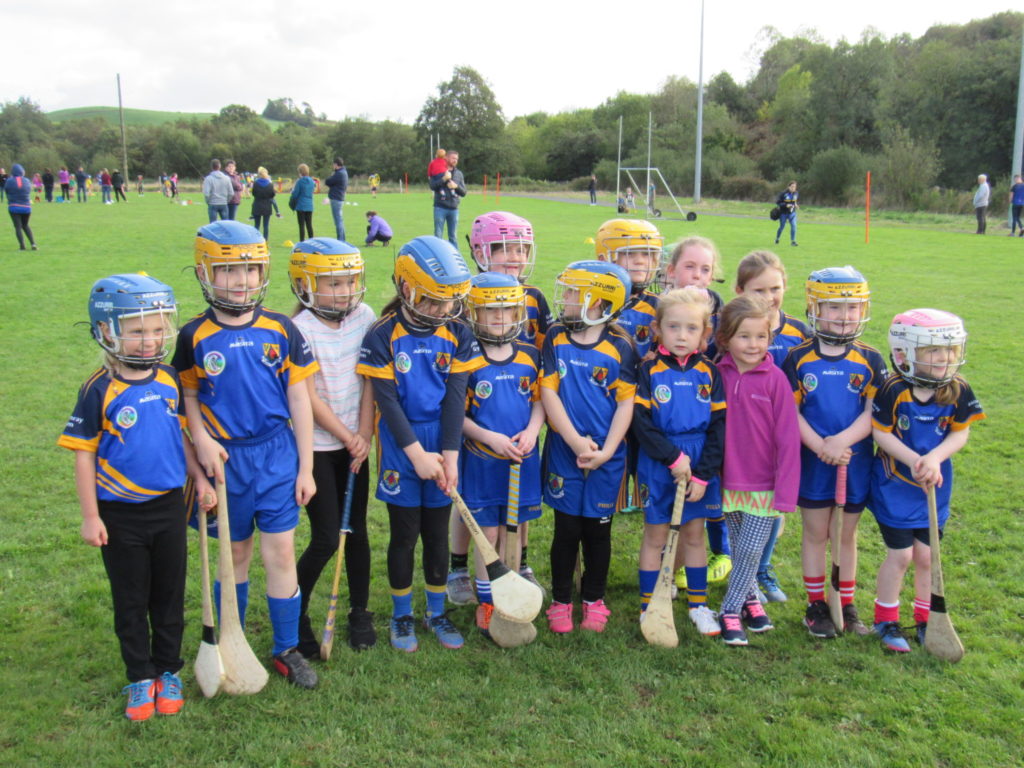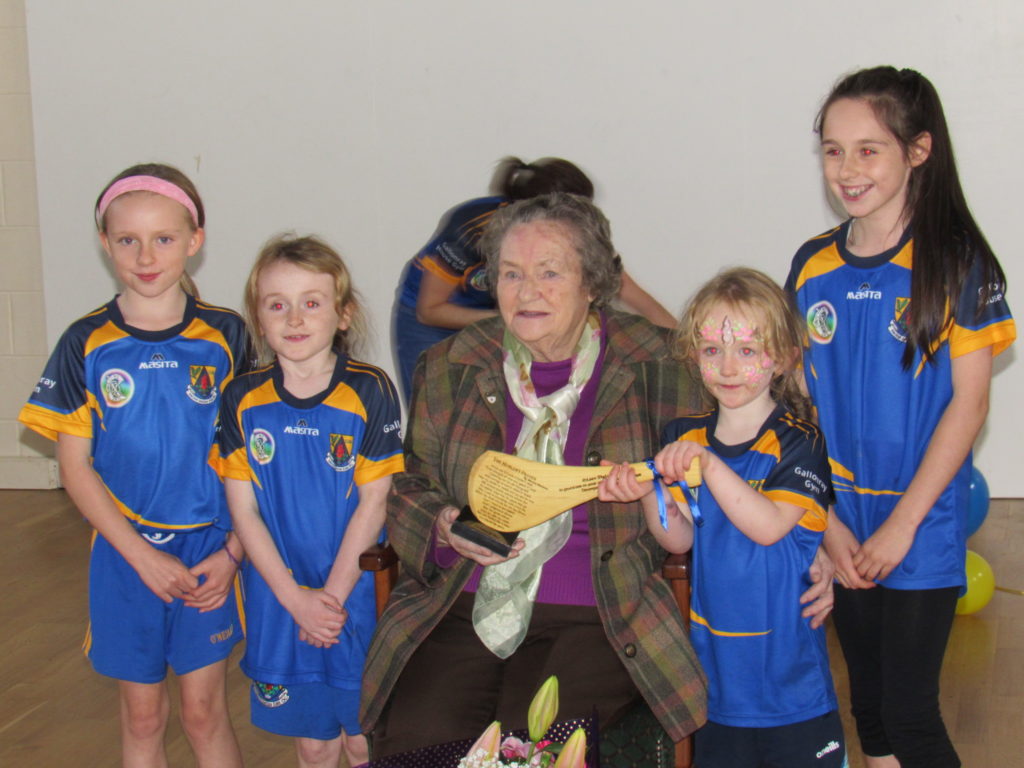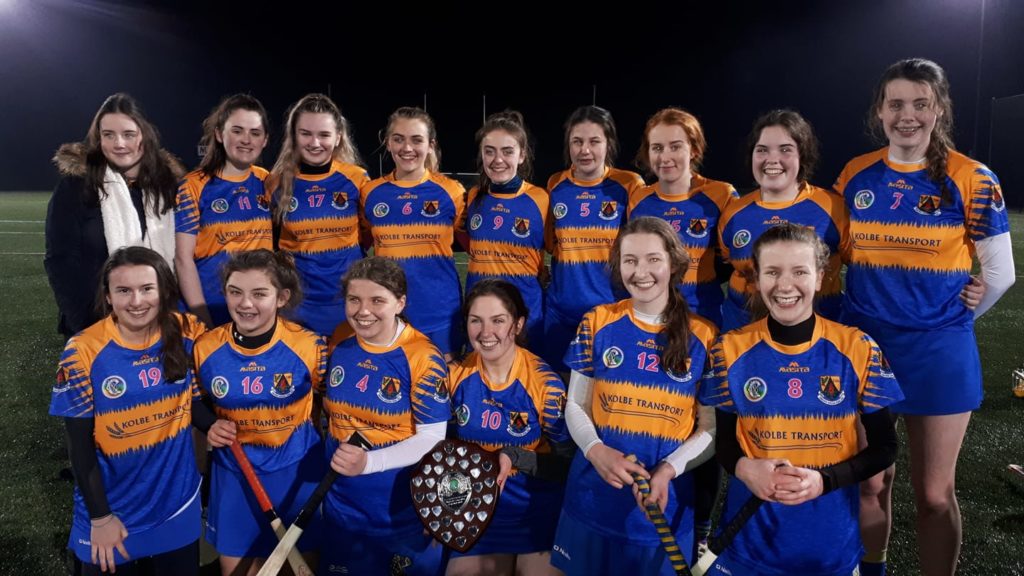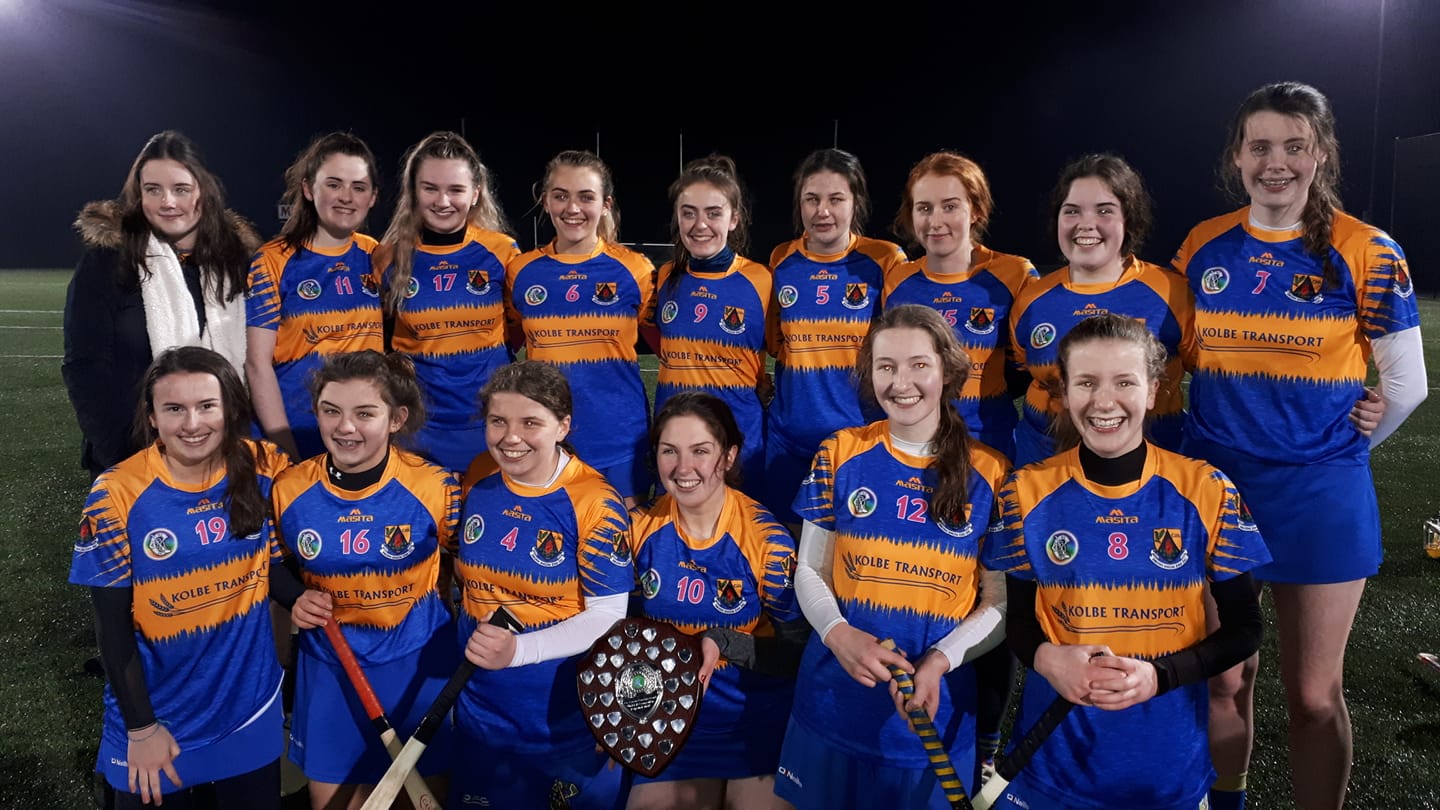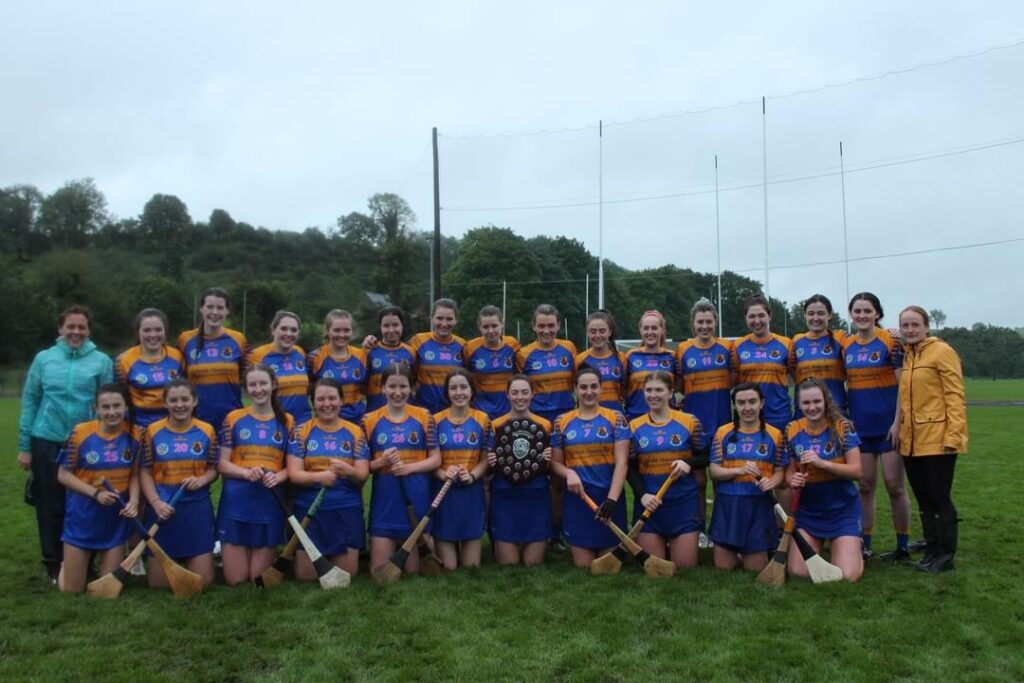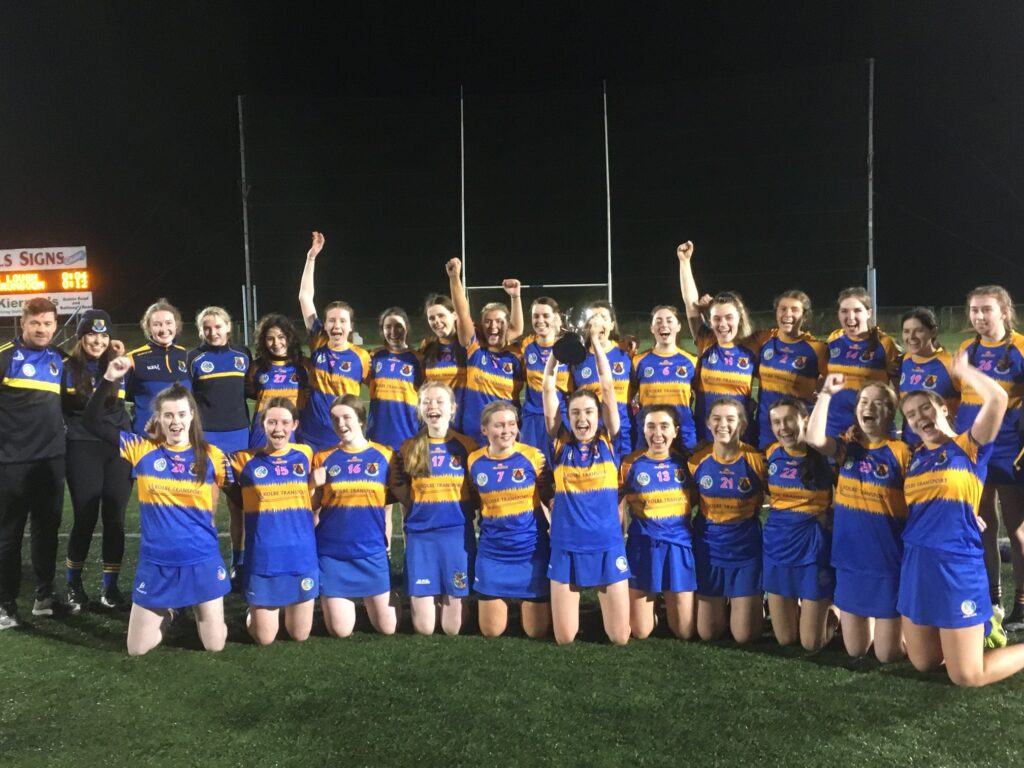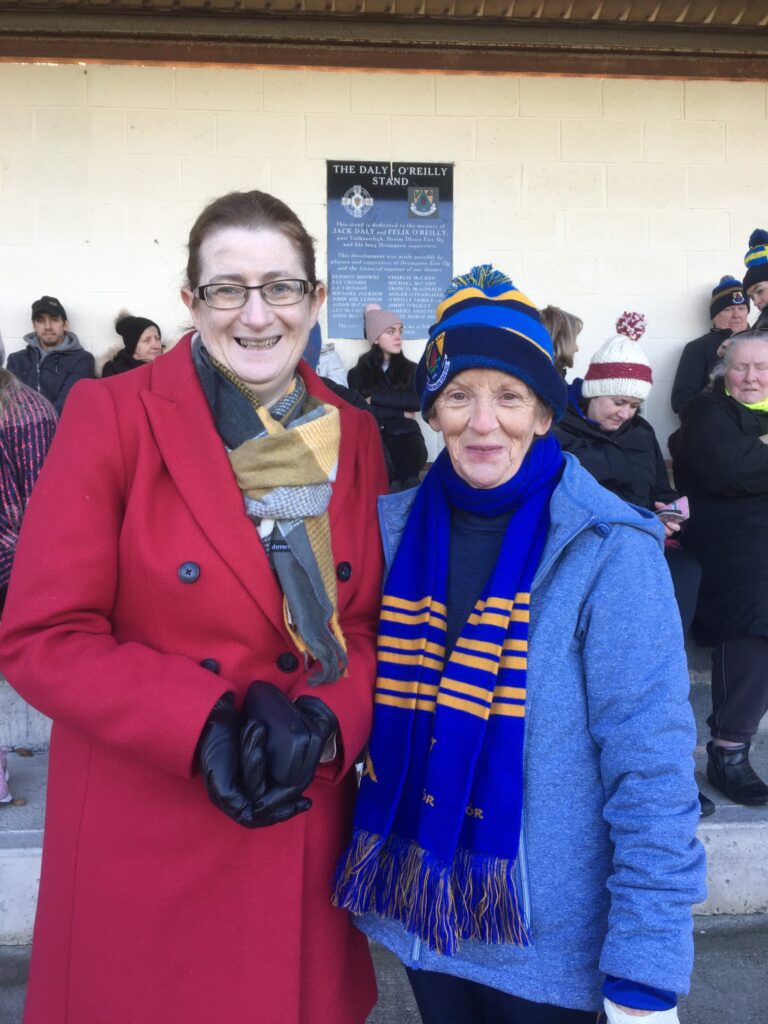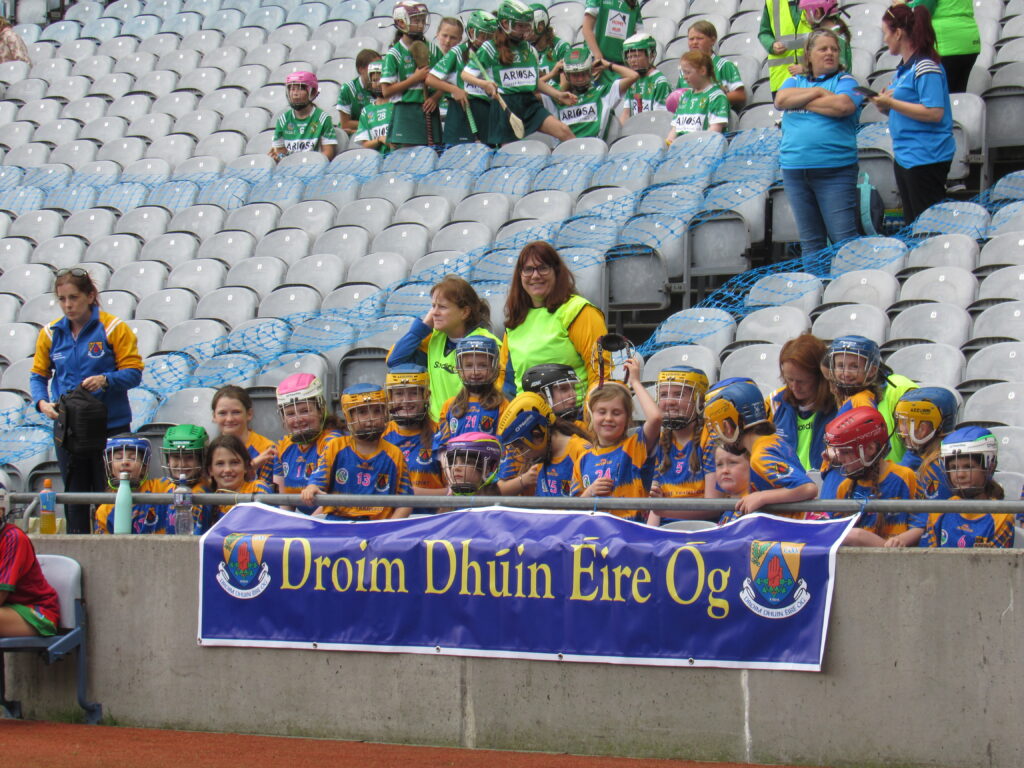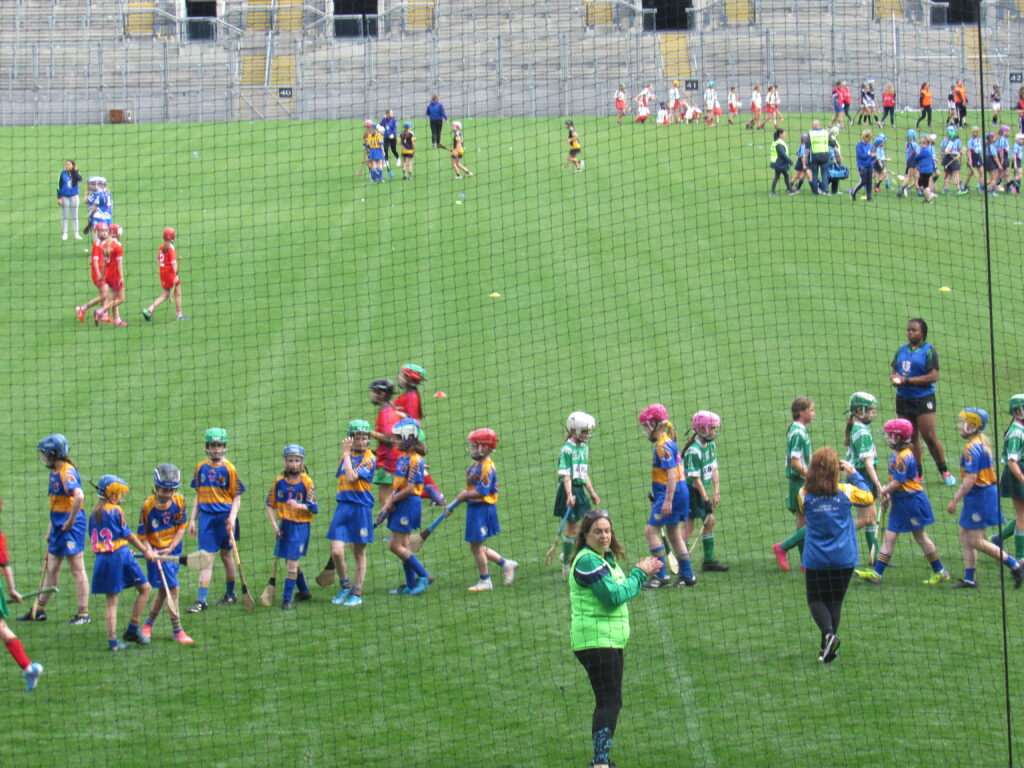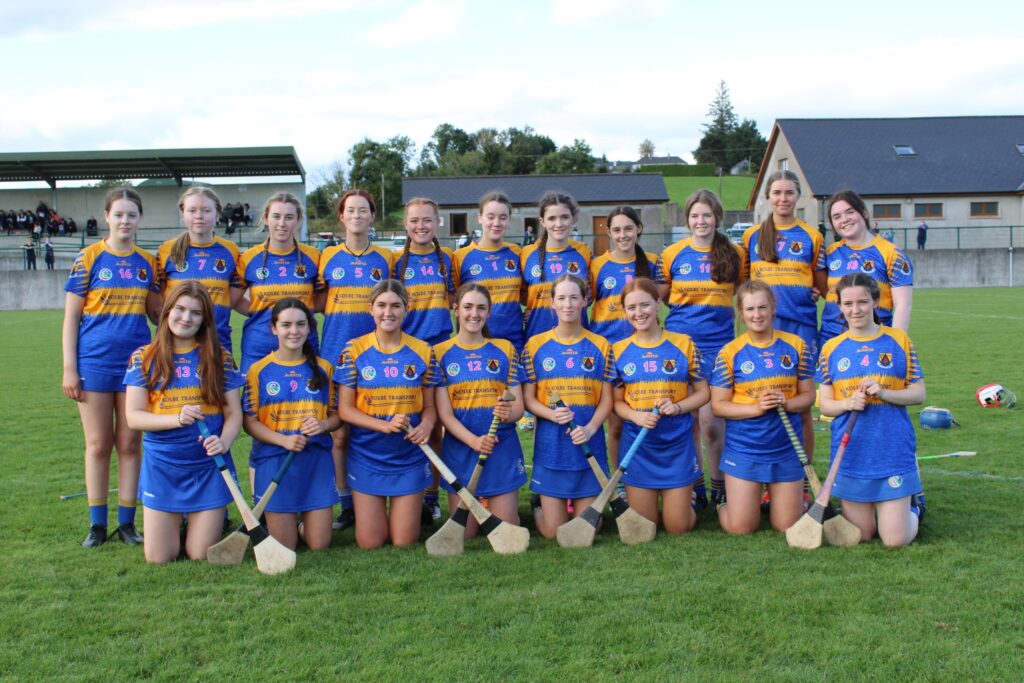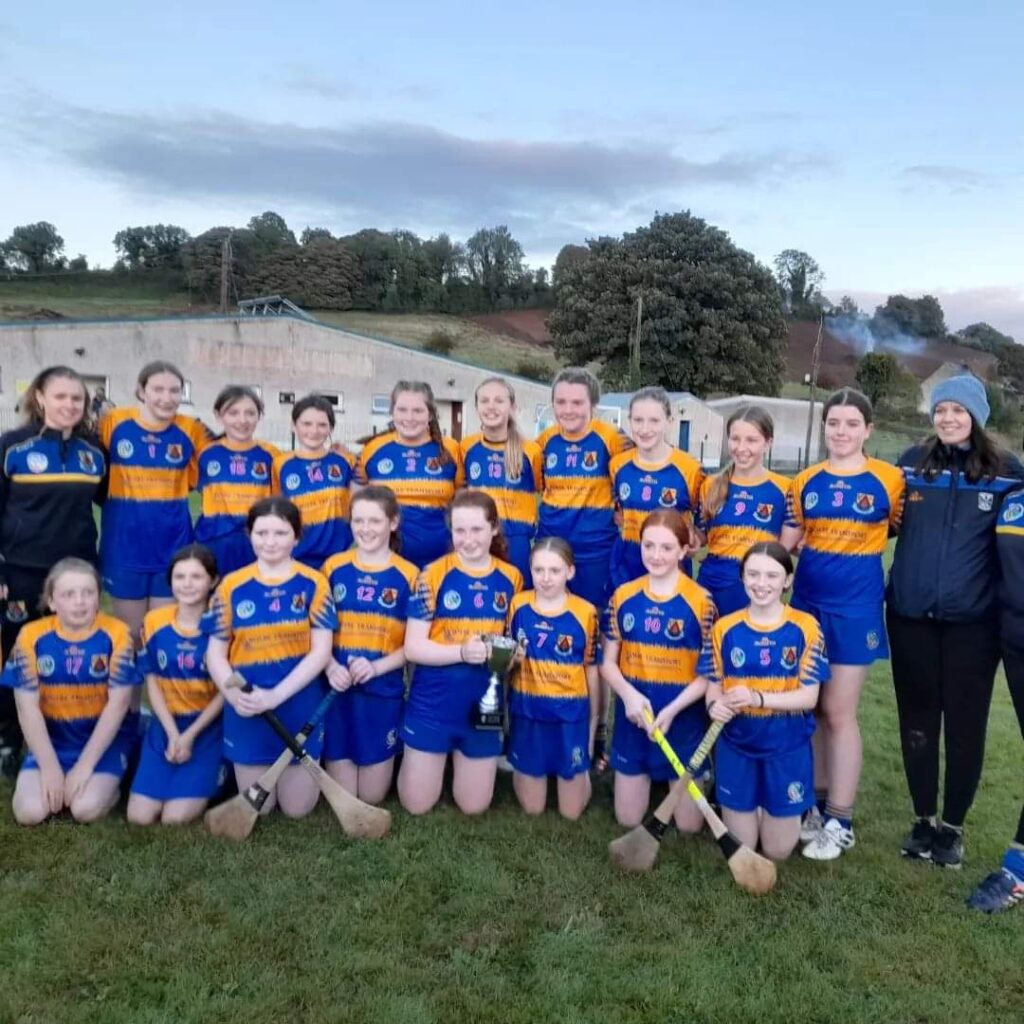 Camogie Report 2020
Despite the pandemic, it was a very positive year for camogie in Drumgoon.
The Junior Team, managed by Margaret McBride, Caroline Martin and David McCarney enjoyed a successful year. They trained three times a week and numbers were high at trainings.
The team captured the Junior League Title against Castletara B Team on August 25th 2020, Drumgoon 4:17 Castletara 1:02. The team also progressed to the Junior Championship final against Crosserlough B Team held on Sept 25th 2020. Despite their best efforts they lost by one goal.
The u17 players trained with the Junior Squad until mid-September. Unfortunately due to the second lockdown, these players didn't get any matches.
The u15s won the Division 2 League Final against Lacken. Numbers and interest was so high that we were able to enter two teams into the Championship. Both teams done very well in their respective divisions.
Our primary school numbers are continuing to grow and we hope to have plenty of games for them to participate in next year.
Míle buíochas to all the committee members, players, parents and management for their tireless commitment they gave the sport. Their years of dedication is shining through in the talent of the current players and success at all age levels.
Caoimhe Clarke, Ciara Fitzpatrick, Sarah Clarke and Rebecca Brady represented the club admirably at county level. They captured the Nancy Murray title against Tyrone in November and reached the All Ireland Junior A Final running Armagh very close on December 5th. The club were proudly represented by Ciara Fitzpatrick (County Captain), Ellen Clegg, Laura Bannon and Ellen Maguire at minor level and Alannah Clarke and Sophie Murphy flew the Drumgoon Flag at County U16 Level.
We would like to thank Tony Mahon for his hard work keeping our grounds in excellent condition. We also acknowledge the support of Chairperson Jimmy O'Reilly and Drumgoon Éire Óg.
Wishing all Club Members and their families' good health in 2021.
Drumgoon Camogie Report 2021.
2021 was a great year for Drumgoon Camogie despite all the restrictions, due to the Covid pandemic. We had over 80 juvenile players registered so Monday evenings were very busy on Boyle Park. We entered teams in U13, U15, U17 and Junior competitions. We also had a number of players representing the club at all levels in inter-county competitions. Most notably, the Minor team who won Ulster and the All-
Ireland with Alannah Clarke, Laura Fox, Rachel Tierney and Charley Norris and the Junior team who
won the Div.4 league in June with Caoimhe Clarke, Ciara Fitzpatrick and Sarah Clarke representing
Drumgoon. We also had 7 girls on the U16 County team.
The U13's played a lot of matches in both league and championships which was great as they got no
games in 2020. They are a great young team with lots of potential but unfortunately silverware
eluded them this year, but the future is bright for this very eager bunch of players.
Our u15's reached the League final in July but were defeated by Laragh. But their determination and
hard work seen them defeat Bailieborough in a thrilling Div. 1 Championship Final in September.
Thanks to their coaches Anne Marie Bannon, Angela Black, Irene Geoghegan and Joanne Halpin.
Our junior team competed in a Summer League which was organised for players not involved with
the county team. This meant that they were up against teams graded above them. This experience
really stood to the team when it came to the championship campaign. With very comprehensive
victories over Castletara and Laragh, they then faced Crosserlough in a repeat of last year's final, but
this time Drumgoon emerged the victors. They then competed in the Ulster completion for the 1 st
time. In a thrilling game on Boyle Park they were, unfortunately defeated by Kilclief from Co. Down.
This is the most successful year for the senior team in a long time and thanks must go to the
hardworking players and managers Caroline Martin and David McCarney.
The U17 competition didn't get underway until November and only comprised of 3 games, this was
very disappointing as U17's got no games in 2020. The girls played really well but were in Division 1
which was perhaps just too strong for this young team.
Our u11's attended a ground hurling blitz in Denn in September but lost out to Kill by the narrowest
of margins after extra-time in the final. The U7's, U9's and U11's also took part in blitzes in
Shercock, Castletara and Kill, which they all thoroughly enjoyed. Thanks to Margaret Mc Cabe who
organised these blitzes and to all the coaches and parents who help out every week at juvenile
training.
We look froward to building on the success on 2021 in the upcoming season.
A short history of Camogie in Cavan
By Fr. Dan Gallogly P.P.
The first record of Camógaí in Cavan was in 1908 in the Anglo Celt when it told of 'Ladies Hurling in Cavan' Ever since (according to Father Dan Gallogly in Cavan's Football Story) the pattern of Cavan Camógaí has been one of birth, growth and decline interspersed by long periods when it was moribund. But the tradition never died in the county and as of now there is a dedicated band of enthusiasts prepared to keep the tradition alive.
From 10 clubs in 1933 to 25 clubs in 1935 back down to 5 clubs in 1940.
1935 was a peak year with senior and junior championships. The first lady to take the chair was Miss Anna McEntee, Main Street Cavan, whose predecessor was Mr P.J. Bartley. They held a Camógaí Carnival in Breifne Park that year with a parade led by Castletara Band, Drumcrow Pipers and Cavan Labour Band. Killygarry won all the major competitions from 1935 to 1945. A game between Crubany and Killygarry in 1940 attracted 2,800 spectators. That same year Cavan won its first Ulster championship represented by Crubany and Killygarry players
Bridie Clarke, Peggie Lynch, Julia O Reilly, Nancy O Reilly, Mollie Donohoe, Kathleen O Reilly, Mae Meehan, Kathleen Smith, Moya Donnelly -all Killygarry. Rita Sullivan, and Annie Fitzpatrick of Crubany.
Belturbet won the Championship in 1946/1947
Stradone in1948-1950.
Laragh 1951-'54.
Ballinagh 1955-1958
The Ulster Council started a junior championship in 1956 to promote the game in weaker counties. Cavan won this title easily with Evelyn O' Hare scoring 6-0
1960 – 1967 were dormant years
1967 saw seven clubs register Cavan, Butlersbridge, Cootehill, Ballyhaise, Cornaféan, Killygarry, and Ballyhaise won. Kill won in 1968 and every year from1970 -'72
By 1970 the game was established in Saint Clare's College Cavan, Loreto College and Saint Aidan's Comprehensive in Cootehill. 1984 saw Cavan Vocational win an All Ireland Title.
1987 Cavan Vocational School brought home the All Ireland Vocational Schools title again
1972 the Primary schools competition being run on a league basis to the quarter finals
Chairpersons of Bord Camogaíochta an Chábháin
Séamus Gilheaney 1932-1933
P.J. Bartley (Mountnugent)1933-1935
Miss A. McEntee(Cavan) 1935-1938)
Paddy O' Reilly (Cavan) 1938-1940
Mrs A Hennesy(Cootehill) 1940-1948
Fr. Foley,C.C. (Kingscourt)1948-1950
James McEnroe (Kill) 1950-1952
Mrs Ann O'Donohoe (Laragh)1952-1954
Mrs E.'O Hare 1954-1957
Thomas 'O Dowd 1957-1961
Mrs B Conaty 1967-1969
James McKiernan 1969-1972
Fr Oliver 'O Reilly 1972-
Joe Hegarty
John Hayes
Molly Clarke
Liam Duffy
Tom Mortell