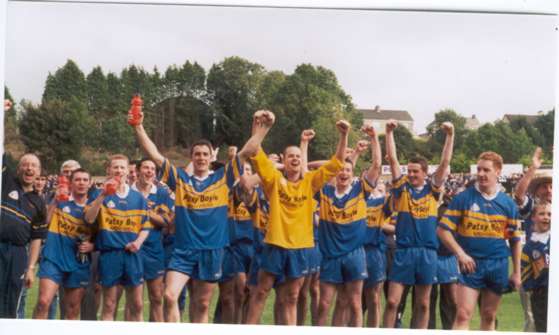 Cavan Junior Football Championship Final (2001)
Drumgoon 1 – 10 , Kildallan 0 – 7
DRUMGOON beaten in last year's junior championship final by a late goal from Cornafean, made no mistake in this year's decider at Breffni Park on Sunday last when they defeated Kildallan by 1-10 to 0-7. This is the first time the title has come to the parish and was due reward for last year's disappointing defeat.
The fact that both teams were sprinkled with youthful players meant that the big occasion was a test of nerves and on this occasion, Drumgoon made the biggest impact. Kildallan made a brave attempt to gain the honours and had a one point lead with four minutes of normal time remaining. Drumgoon finished strongly and in drawing level and taking the lead scored 1-4 without reply in the last eight minutes, which included four minutes of injury time. In fact the game went on for a further two minutes and by that time, Drumgoon had the honours wrapped up, Edward Jackson scoring the game's only goal game in the sixty third minute. Scoring Records:- Both sides had impressive scoring records coming up to the final, Drumgoon amassing a total of 5-71 (86 points) from their five matches including 0-20 against Corlough, 2-17 against Maghera; 2-10 against Shercock and 0-17 against Redhills. Kildallan reached a target of 6-61 (79 points) and among their impressive totals were 2-11 against Arva, 2-15 against Munterconnacht and 1-15 against Shannon Gaels. Drumgoon's defence conceded seven scores fewer than their opponents.
It all boiled down as to which side had the capability of rising to the occasion and it was Drumgoon, with last year's experience behind them who went into the game as favourites. Strong breeze:- Kildallan with first use of the strong breeze missed the opportunity to take an early lead instead they shot four wides in ten minutes, hardly something which helped boost confidence. Drumgoon had the opening score from Philip McDermott in the eighth minute before Trent Fitzpatrick ended a spate of wild shooting with the levelling score after eighteen minutes. Drumgoon took a 0-3 to 0-1 lead after twenty one minutes through Paul McCabe and Keith Fannin. With the exchanges being keenly fought yellow cards were issued to Enda Herron and Colm Hannon. Kildallan fought back and drew level with four minutes of the first-half remaining, Daithi Reilly with a fine effort from forty metres and Barry Rudden from a free. Pressure:- Kildallan maintained the pressure as John O'Neill was in full flight towards goal but lost possession and a shot from Trent Fitzpatrick hit the upright. Drumgoon thought they had snatched the lead through Peter Hand right on the stroke of half-time but a minute into injury-time, Barry Rudden from a free levelled the scores, 0-4 each. Low Scoring:- The first-half ended with a mere eight scores, an unusually meagre tally in the conditions which prevailed. It looked as if team manager Paddy Bates and his selectors Mick Fitzpatrick and Michael Hannon did some tough talking during the break. Immediately after the restart, full-forward Adrian Crossan scored a great point from the wing to regain the lead. As Drumgoon pressed forward Paul McCabe received a yellow card. Both sides introduced subs. Brian Bates coming into the Drumgoon attack and Andy Owens taking his place in the Kildallan side. Drumgoon went further ahead in the ninth minute through a Peter Hand free and should have extended their lead in the next few minutes. Down to 14 players:- With the game entering the final quarter, the title was very much in the balance as Brian Rudden continued to show his accuracy from frees and reduced the deficit to just one point with fourteen minutes left. Kildallan's hopes suffered a blow when Daithi Neary received a red card in the eighteenth minute. The team rose to the challenge however and Trent Fitzpatrick levelled the scores in the nineteenth minute. Drumgoon were forced back on the defensive at this stage but despite the pressure, Kildallan were unable to make much impression on the scoreboard. Frustrating:- After a frustrating four minute period, Barry Rudden gave Kildallan the lead with six minutes of actual time remaining. That proved to be Kildallan's last score as Drumgoon levelled through Peter Hand with five minutes left and Jim McNally, Philip McDermott and Brian Bates added further points to stretch the lead to three points two minutes into injury time. There was still time for Kildallan to force a late goal and a draw but the goal went instead to Drumgoon one minute later when a Peter Hand lob into the square was finished to the net by Edward Jackson. First junior title:- Drumgoon's junior title win is their first in the club's history and was achieved through top-class team work and team spirit. Out of this collective achievement there were a number of top-class individuals including a strong defence in which goalkeeper, John Reilly was fronted by a sound full-backline in Paul McEnroe, Colm Hannon and team captain Martin Clerkin. Edward Jackson at centre-half back got among the scorers and he got great support from Michael A. Hannon and Keith Fannin. Jim McNally at midfield along with Paul Crossan who replaced the injured Seamus Morris worked hard and in attack, Philip McDermott was chosen man of the match. Peter Hand was also a threat at right-corner as was Brian Bates who made a big impact when introduced seven minutes into the second-half. Lack of experience:- Kildallan's lack of experience was very evident at various stages as they had the opportunity to take the honours but failed gallantly in their efforts. Team captain Enda Herron tried to inspire his colleagues from the left-half back position, and there were notable contributions from Barry Rudden, Noel Maguire and Trent Fitzpatrick in attack. Drumgoon:- J. Reilly; P. McEnroe, C. Hannon, M. Clerkin; M. A. Hannon, E. Jackson (1-0), K. Fannin (0-1); J. McNally (0-1), P. Crossan; P. McDermott (0-2), I. O'Reilly, Paul McCabe (0-1); P. Hand (0-3), A. Crosson (0-1), Patrick McCabe. Subs. B. Bates (0-1) for Paul McCabe.
Kildallan J. Conaty; D. Neary, J. O'Reilly, B. Reilly; W. O'Grady, D. Crushell, E. Herron; P. Wynne, C. O'Hara; D. Conaty, B. Rudden (0-4), D. Reilly (0-1); N. Maguire, T. Fitzpatrick (0-2), J. O'Neill.
Subs. A. Owens for B. Reilly, S. O'Neill for D. Conaty.
Referee: Brendan Sweeney, Ballymachugh.
Drumgoon's winning habit
Drumgoon captured their first ever Cavan intermediate championship title last Autumn. Kevin Carney reviews their historic campaign. It's a hell of an achievement to win an intermediate championship at the first time of asking. "And to do it with such a small panel of players is even harder. "Winning back to back championships is something else but the team deserved it." Drumgoon team-captain Edward Jackson's summing up of Drumgoon's superbly crafted triumph in the 2002 IFC could have been penned by any number of his colleagues but the joy of it is no less exhillirating for the umpteenth telling. Unrestrained joy still envelopes the Drumgoon quarter of county Cavan. Funny how, just over ten years ago, Drumgoon were regarded as one of the whipping boys of Cavan football. A bit more than a decade later and the club is regarded by some as senior champions in-waiting. For the time being, the hugely ambitious rural-based club is enjoying a 'breather' after an almighty successful season. The club had a great year in 2002 at all levels. Little wonder then that it is wont to parade the silverware with the sort of pride and confidence a popular king exudes in strutting his stuff among his people. Last Autumn, the Drumgoon trophy cabinet was dusted down – yet again – to make room this time for the blue riband intermediate cup. Winning, it seems, is one big habit around Drumgoon. Winners of the JFC title in 2001, Drumgoon took to the intermediate stage last year with everything going for themselves except the value of being an unknown quantity. Pointedly, they began the championship season in 2002 as one of the favourites to go the distance. And not for the first time, the local turf accountants got it spot on! Drumgoon began their bid to scoop back-to-back titles by taking on Ballyhaise in round one of the championship back in mid-July at Kingspan/Breffni Park. It was to prove a wholly satisfying and rewarding opener with the winners-elect walloping their opponents by 2-18 to 2-5. The rest of the pack had been duly warned! In what was a clinical demolition of their opponents, Drumgoon hit the ground running and a goal by Bryan Bates helped ease them into a 1-3 to 0-0 lead as early as the fifth minute. Even at that early juncture, the writing was well and truly on the wall. Drumgoon were in fine fettle. Their direct football, running off the ball and a lethal full-forward line of Adrian Crossan, McCabe and Bryan Bates, who contributed 2-9 between them, proved much too much for Ballyhaise to get a handle on. Leading by 1-7 to 0-3 at the interval, Drumgoon cemented their opening brace of championship points after just 90 seconds of the second half when Paul McCabe collected a superb pass by Edward Jackson to rifle the ball to the net to leave a full 10 points separating the sides. In the best tradition of football cliches, it was, by that stage, all over bar the shouting. "We got off to a flyer in the championship and that helped our confidence a lot. But because we had been playing in division one of the league, we knew we had the ability to play at intermediate level. It was still good to get off to such a good start," Edward reflected. Thereafter Drumgoon continued their fine mid-season form by putting behind them an indifferent first half display to come from behind to beat championship joint favourites Ballinagh in a dramatic finale to a fine match at Kingspan/Breffni Park at the end of July. Drumgoon's one point win (1-10 to 2-6) may have been a tad harsh on Ballinagh but the winners were entitled to the spoils. Ballinagh burst from the blocks though and their first major arrived after just two minutes when Colin Gumley carried the ball some 20 metres before firing a shot from around the same distance into the Drumgoon net. The warning bells were well and truly sounding for Drumgoon as they sought to compose themselves under fire. In what was a repeat of the meeting of the two sides in the 2001 ACFL Division Two decider won by Drumgoon, the town team began to concede ground as the game progressed and the saffrons had a major let-off in the 14th minute when relocated corner-back Martin Clerkin saw his low shot ricochet to safety off the outstretched legs of McCarthy in the Ballinagh goal. Drumgoon lorded the possession for sustained periods and prompted up front by the ever-willing Paul McCabe deservedly drew level at 0-5 to 1-2 with an Ian O'Reilly converted free in the 21st minute. As things panned out, the interval arrived after some more frantic football with the would-be winners trailing by 0-5 to 2-3. On the restart Drumgoon slowly but surely chipped away at Ballinagh's vaunted position. Their customary spirit and tigerish workrate – exemplified by Paul McCabe -saw them hit the jackpot when Seamus Morris scored a goal and a point in the 17th and 18th minutes. As the game wore on, Drumgoon's bounty of possession increased significantly. As things transpired though the blue and yellows found that points were adequate enough and Peter Hand (free) and Seamus Morris found the target in the 26th and 28th minutes respectively to leave Ballinagh trailing by 2-5 to 1-9. Ballinagh dug deep to level matters approaching the end of normal time but just moments into added-on time, Paul McCabe was the personification of opportunism to make good a misjudgment of the bouncing ball by the Ballinagh full-back line to rifle over the winner just in the nick of time. Despite having already booked their place in the last eight, Drumgoon continued to demonstrate an unsatiable appetite for success by beating the 2001 beaten championship finalists Drung by 0-11 to 0-8 at Cootehill in the next round. In truth, the destination of the spoils was largely decided in the 46th minute when Drumgoon half-back Keith Fannin blasted home a penalty which had the effect of engineering a 1-9 to 0-7 cushioned lead for the would-be victors. Drumgoon's win owed much to a five-star display by the Drumgoon 'keeper John Reilly who pulled off three first-class saves, including one apiece from Niall and Shane O'Rourke in a three minute spell in the dying minutes of the second half which were instrumental in copper-fastening Drung's fate. The teams were level on four occasions in a helter-skelter first half period at the end of which Drung led by the odd point in nine. On the restart, Drumgoon's determination to retain their unbeaten run was manifest in Paul McCabe's quickly engineered levelling point after a brilliant delivery by Ian O'Reilly was gathered by the pacy number 14 racing in behind the Drung defence. Then from the kick-out, Drung launched an attack but Colm Hannon won an important tussle on the square with Finbar Crowe and when the Drumgoon defender worked the ball up the left wing, Seamus Morris showed a clean pair of heels to his marker before splitting the posts after 37 minutes. Drumgoon continued to be the more energised side and Morris impressed again in finding the target after 41 minutes to leave Drumgoon 0-9 to 0-6 in front. Thereafter Drung were left chasing the game when Fannin converted a penalty in the 46th minute when Paul McCabe was fouled powering forward. From there to the finish, Drumgoon always had the look of winners. "The Drung game was always going to be one of our most difficult games because of the connections at underage between the players over the years and the fact that we're almost neighbouring clubs. The football was never going to be pretty either and once we were drawn in the same group as them, we knew that it was a game we'd have to be at our best for to get the two points we needed to help us progress," Edward reflected. Thereafter the quarter-final meeting with Laragh in Cootehill proved to be a shockingly one-sided encounter with Drumgoon proving a class apart in cantering to a 0-15 to 0-4 win. More aggressive in the tackle, faster to react to the spillages, fitter and altogether much more efficient with their use of the ball, the winners could hardly have anticipated such an easy ride. Drumgoon's eleven point winning margin wasn't in the least bit flattering. Laragh didn't record their first point of the game until the stroke of half-time.Drumgoon had pace, invention and finishing power up front to complement their defence's dynamism and their midfield's grit. With 20 minutes played, Laragh were looking at a 0-0 to 0-5 deficit and from there on a cloak of inevitability wafted its way over proceedings. The only surprising aspect of the game was that Drumgoon failed to find the Laragh net. They were denied a goal in the 54th minute when Paddy McCabe's point-blank effort was brilliantly parried by Laragh 'keeper Brian Carolan. Predictably Drumgoon finished the game as they had started it – with a flourish; points at the death from Peter Hand and Keith Fannin adding some extra lustre to their win. And so to the semi-final and a meeting with erstwhile opponents Drung.
Once again it was a close affair but Drumgoon weren't flattered one bit by their eventual 0-12 to 0-8 victory after they had chiselled out a 0-6 to 0-5 half-time lead. In essence it was a victory principally carved out of a power-packed second-half display, hallmarked by impressive fitness levels, powers of concentration and determination. An eight man move in the 38th minute symbolised the difference between the sides on the day. A move started in the half-back line was carried forward at great pace and with great skill and cohesiveness before being finished with a point by Jim McNally. After McNally's point, Drung really tried everything they knew to unhinge their opponents' fluency and focus but to no avail. The longer the game wore on, the greater the feeling abounded in Hugh O'Reilly Park that Drumgoon could only throw the game away. Drumgoon in 2002 were not so wasteful or foolish. "At the start of the year, we set out to reach the final and getting there left us just having to achieve our main objective which was to lift the cup. Preparations had gone well for us all year and we knew that whatever opposition was put in front of us, we'd be very hard to beat," erstwhile senior countyman Jackson enthused. Narrow victors over Cootehill in the other semi-final, Denn provided the opposition for Drumgoon in the county decider in the first week of October. Drumgoon were to triumph by 0-8 to 0-6. The win was historic, unprecedented and thoroughly professional. Although it was a close contest throughout, once Drumgoon got into their stride around the 15th minute and took the lead for the first time courtesy of a Peter Hand effort, Denn were up against it. Drumgoon's grip on the exchanges tightened in the closing stages of the first half with excellent points from man-of-the match Keith Fannin, Paddy McCabe and Philip McDermott which helped ease their side to a 0-6 to 0-3 interval lead. Drumgoon began where they left off by having the better of the opening exchanges on the restart with Philip McDermott increasing their lead with a fine point. And although veteran Tommy Smith pointed for Denn minutes later, a neat point from Keith Fannin in the 43rd minute restored Drumgoon's four point lead. From there to the finish, it was all about Drumgoon holding Denn at bay and easing their way into the winners' enclosure. Doubtless just minutes after the sounding of the final whistle, team-manager Paddy Bates and selectors Michael Fitzpatrick and Michael Hannon were already setting their sights on making it a glorious hat-trick of blue riband titles with a crack at the senior championship in 2003. For his part, team-captain preferred to savour the moment; "It's been a dream come true so far in winning the junior and then intermediate, one after another. "The club has come a long way in a short space of time but the team is still a very young one. "We know the best has yet to come because we're still learning and maturing as a team. It'll be great playing in the senior championship and who knows what will happen." For the record, the Drumgoon team which secured their historic IFC final victory over Denn was as follows; Seamus Morris; Paul Crossan, Colm Hannon, Paul McEnroe; Adrian Crossan, Michael Hannon, Keith Fannin (0-2); Edward Jackson, Jim McNally; Philip McDermott (0-3), Martin Clerkin, Patrick McCabe (0-1); Ian O'Reilly, Paul McCabe (0-1), Peter Hand (0-1). Sub; Bryan Bates for Peter Hand.
History-makers Drumgoon's success in winning the All-Ireland Junior Club Championship title last May was historic and unprecedented . . .and definitely worth recording. "I couldn't have asked for any more of the lads. They were terrific all through the tournament and carried the sort of form they produced to win the county junior championship on into the Ulster and All-Ireland championships. It's great for the club, a great honour to be the first Cavan club to win an adult All-Ireland club title." Spoken like a true Monaghan man! Paddy Bates, team-manager of the Drumgoon team, offers a genuine post-script to one of the greatest chapters in the history of Cavan football. Drumgoon's success in winning the All-Ireland Junior club title was one of the highlights of the year in Cavan football circles. How ironic then that one could have been forgiven for thinking that rising stock of Drumgoon GFC appeared to have come to a climax with the club's 1-10 to 0-7 JFC triumph in 2001 – their first-ever Cavan JFC title. But who would have thought it that just over a year later, the small parish outfit would be celebrating a county intermediate championship title AS WELL as an An-Ireland! To establish the genesis of Drumgoon's successful run to the All-Ireland Junior club title, a brief synopsis of their county campaign serves to paint the sort of rosy vista that enveloped the yellow and blues in 2001. Drumgoon amassed a total of 5-71 (86 points) from their five matches in the 2001 Cavan JFC including 0-20 against Corlough, 2-17 against Maghera; 2-10 against Shercock and 0-17 against Redhills. Their 1-10 tally against west Cavan side Kildallan in the county decider wasn't so hefty but it was more than enough to catapult the club into the Ulster Junior club championship, a competition hosted by the progressive Cremartin club in Monaghan. The team, and subs, who secured Drumgoon's passage through to the provincial arena was as follows: John Reilly; Paul McEnroe, Colm Hannon, Martin Clerkin; Michael A. Hannon, Edward Jackson (1-0), Keith Fannin (0-1); Jim McNally (0-1), Paul Crossan; Philip McDermott (0-2), Ian O'Reilly, Paul McCabe (0-1); Peter Hand (0-3), Adrian Crosson (0-1), Patrick McCabe. Subs. Bryan Bates (0-1) for Paul McCabe.
A few months later, the history-making Drumgoon players were on their way to scooping another title, this time a provincial title. The Cavan champions took on the Monaghan champions, Doohamlet, in the decider at the pristine Cremartin grounds. Doohamlet meant business and started in turbo-charged style, racing into an early lead with points from Shane Mc Manus and Ted Duffy. Drumgoon were slow to settle but a good move started by would-be county senior Keith Fannin was finished by the in-form Philip McDermott. Ted Duffy had another point for Doohamlet before Paul Crosson opened Drumgoon's account with an equally fine effort. Young Crossan was revelling in his role as a half forward. His younger brother, Adrian, used his electric pace to good effect to then get onto the scoresheet with two good points. Drumgoon had by this juncture eased their way into the lead, one which they were never to subsequently relinquish. Doohamlet's midfielders Greg Duffy and Ciaran McManus were urging their side forward but the found the Drumgoon defence were composure personified. With the Hannon brothers in top form and Keith Fannin giving an exhibition in the wing back position, Doohamlet found it increasingly difficult to make progress in the last third of the field. At the other end, Martin Clerkin started a good move which ended up with Edward Jackson firing over the bar to increase his side's lead. And then came the sucker blow for Doohamlet just before half time when Philip McDermott delivered a long ball forward into the Doohamlet square. In the ensuing scramble, the opportunistic Bryan Bates coolly collect the ball and shot to the net to leave his side 1-7 to 0-6 to the good at the interval. "We played some good stuff but I always felt we had more in the tank all the same. They gave us some problems in the first half but the goal gave us a cushion that Doohamlet just weren't able to recover from," team-manager Bates reflected. The Bates pep-talk at half-time also did the trick for his charges weren't long about adding to their lead – the versatile Keith Fannin stealing forward to point on the run. However Doohamlet proved worthy provincial finalists and midfielder Greg Duffy and Ciaran McManus both had points for Doohamlet to keep them in touch. However just when it seemed as if Doohamlet were getting back into the game a double Drumgoon substitution had an immediate impact on affairs. Both Seamus Morris and fellow sub. Peter Hand rifled over a point apiece to all but seal the issue. A final point from the tireless Martin Clerkin served to put the icing on the cake to leave Cavan's ambassadors 1-13 to 0-10 to the good at the final whistle. The following is the Drumgoon team and subs which scooped the Ulster title, John Reilly, Paul McEnroe, Colm Hannon, Martin Clerkin (0-1), Ronan Crosson, Michael A. Hannon (0-1), Keith Fannin (0-1), Edward Jackson (0-2), Jim Mc Nally, Philip McDermott (0-1), Adrian Crosson (0-3), Paul Crosson (0-1), Bryan Bates (1-0), Paddy Mc Cabe, Sean Clerkin. Subs used: Shane McGorry, Paul McCabe, Peter Hand (0-2), Seamus Morris (0-1), Ian Reilly.
And so to the All-Ireland semi-final and a meeting with Wicklow kingpins An Tochar. Played in Cremartin on Easter Monday afternoon, Drumgoon didn't hang about in stamping their authority on the game. Keith Fannin drove forward to rifle the ball from the left wing over the bar for the opening point. Playing with a stiff breeze Drumgoon proceeded to dominate the first half and their relentless pressure paid off when the winner of the Man of the Match award, Jim Mc Nally, pushed forward to fire over another point. The pressure from Drumgoon was unrelenting and a tremendous run by the powerful Philip McDermott was justly rewarded with a good point. An Tochar could make little headway against a water tight Drumgoon defence and another fine move by Drumgoon saw Paul Crosson cutting in from the right to add to Drumgoon's advantage. It was then the turn of Drumgoon centre half back Paul McEnroe to speed forward to add another good score. Significantly the game was 20 minutes old before An Tochar got on the scoreboard when Shay Cullen converted a free. Drumgoon had the last say before the interval though when full forward Paddy Mc Cabe got on the scoresheet to leave Drumgoon 0-6 to 0-1 in front. With the wind on their backs, An Tochar gradually came more into the game on the restart and a quick brace of points left just three between the sides. But an Edward Jackson point and a similar effort by sub. Peter Hand helped keep An Tochar at bay. A shock goal then by An Tochar full forward Luke Ferguson threatened to turn the game on its head minutes later though but after some brilliant play by Shane Mc Gorry, Peter Hand fired over a good point from way out on the left. With time up, centre half forward Des Fanning had a point for Roundwood and in all out last attack deep into injury time their full back Nick Nolan shot over a long range point. But that was that. Moments later with the score standing at 0-9 to 1-5 in Drumgoon's favour, the final whistle blew and Drumgoon were into the All-Ireland final. The following was the Drumgoon line-out, and scorers, which featured against An Tochar: Drumgoon, John Reilly, Shane McGorry, Martin Clerkin, Michael Hannon, Ronan Crosson, Paul Mc Enroe (0-1), Keith Fannin (0-1), Edward Jackson (0-1), Jim McNally (0-1), Philip McDermott (0-1), Adrian Crosson, Paul Crosson (0-1), Bryan Bates, Paddy McCabe (0-1), Seamus Morris, Subs used: Peter Hand (0-2), Sean Clerkin. Mayo and Connacht champions Belmullet overcame the Kerry and Munster champions in the other semi-final so the scene was set for a cracking decider. "Going into the final against Belmullet, we knew they were very strong but we were more concerned with our own preparations and we were happy that, for the first time all year, we had a full panel to pick from. We felt that if the lads played to their potential they would be very hard to beat," Drumgoon chief Bates explained. However it was Belmullet that flew into an early three point lead before Drumgoon wing back, Keith Fannin pointed from wide out on the left. Adrian Crosson operating at full forward got the first of his three points, before Philip McDermott brought things level for Drumgoon. With Belmullet shading it at midfield, it took brilliant play from the Drumgoon half back line to stem the tide. Centre half back, DCU student, Michael Andrew Hannon, despite a high speed spin from Dublin to make the game with minutes to spare following an exam, was in excellent form. Michael continued to drive the play forward and the constant pressure had to pay off. Ian Reilly was back to his brilliant best on the forty for Drumgoon and he shot over to give Drumgoon the lead for the first time. Brian Lynch shot over an excellent point for Belmullet from wide on the left before the strong running Philip Mc Dermott replied with a similar score for Drumgoon. At half time Drumgoon led on a scoreline of 0 – 8 to 0 – 6. In the second half Belmullet came out with all guns blazing and points from Stephen Carolan and Paddy Barrett brought them right back into contention. However with a slight breeze on their backs, Drumgoon were never going to give up the fight. A good clearance out if defence by Colm Hannon found his younger brother Michael. Michael surged forward covering at least 70 yards before attempting to shoot over the bar. Michael's shot fell short and deceived David Padden in the Belmullet goals. The Belmullet keeper knocked the ball forward and fastest to re-act was the in rushing Edward Jackson, who shot to the net. With their tails now up Drumgoon played some excellent passing football and had two more points from Philip McDermott and Ian Reilly. Belmullet were not going to give up without a fight and in the final five minutes launched an all out assault on the Drumgoon goals. Cometh the hour cometh the man though and Drumgoon keeper John Reilly proceeded to pull off a brace of match-saving blocks. Belmullet still drove forward though but were out of luck in rattling the bar in a last-gasp attack. It was all over though for the Mayo men as they failed to alter the 0-12 to 1-14 scoreline thereafter. Drumgoon were not to be denied. The following is the Drumgoon team, subs and scorers, who hauled Cavan football back into the pantheon of All-Ireland champions by defeating Belmullet; John Reilly, Jimmy Reilly, Colm Hannon, Martin Clerkin, Keith Fannin (0-4), Michael Hannon, Paul McEnroe, Jim Mc Nally, Edward Jackson (1-0), Paddy McCabe, Ian Reilly (0-4), Philp McDermott (0-3), Bryan Bates, Adrian Crosson (0-3), Seamus Morris Subs used, Peter Hand, Paul Crosson